Hey cuties, I'm back again to continue my little documentary on Tokyo!
How have you all been? It's October already and it's getting so autumn-y these days, I just love it. Even though I like all seasons, autumn has got to be my favourite.
Enough of the chit-chat for now, though, let's get straight to the point. I know what you want to see and I will deliver only for you ♥
But mind you, this is going to be picture heavy. And I mean REALLY picture heavy. I picked out almost 100 photographs from that day because we saw so, so, so many lovely things then. To ease it up a little I will put them under a cut though and split this into two parts, so lean back and enjoy!
April 19th was one of the days with the tightest schedule but because of this it was also very, very lovely as we got around to see many different places. Our day started at about 7am, when we headed to Sendagaya to have our fitting and rehearsal for the
KAWAii MATSURi
!
If you followed our adventures from the
Kawaii.i Facebook Page
and
gallery
, you already know that the five of us got to model for some magazines there and on that day it was the first time to see all that was going to happen there.
When we arrived at the Tokyo Metropolitan Gymnasium there were already a few strikingly fashionable people outside and and as we got inside the room was filled up with the models I've only seen in magazines before. I think that was certainly one of the many magic moments I felt while I was on the trip.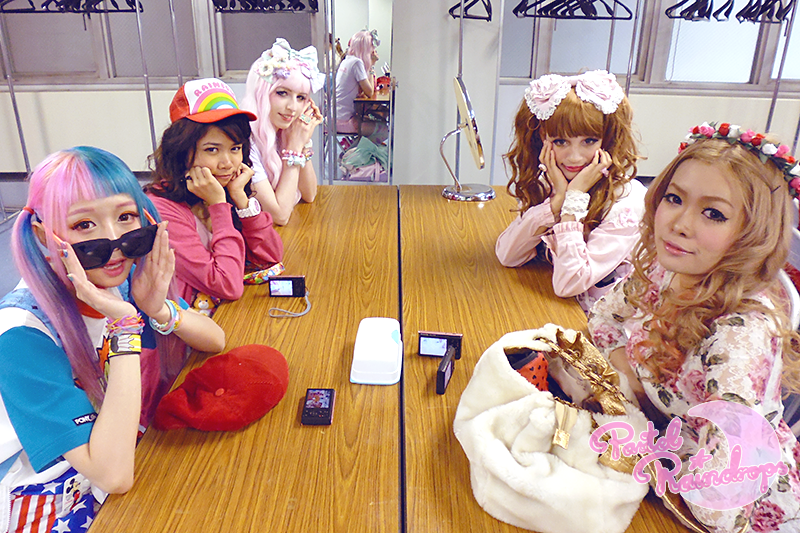 Our little group waiting to get to work! ✩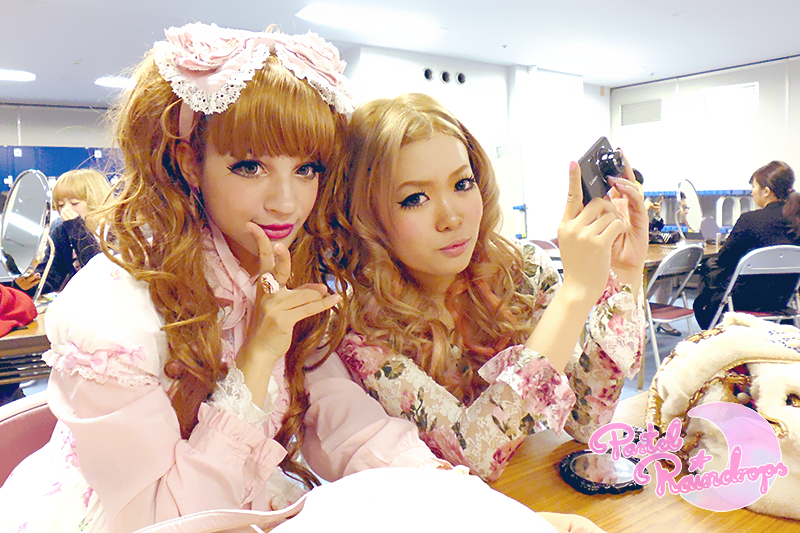 Precious Marie and Stella the cutie ♥
After waiting a little we got to see the lovely outfits that were picked for us, were to try them on and also rehearsed the way we would walk and act on stage which was really exciting for me! The stage was so much bigger than I expected it to be and this whole place was really big.
After some little nice lunch we took the train to get to Ikebukuro and were introduced to a very neat place!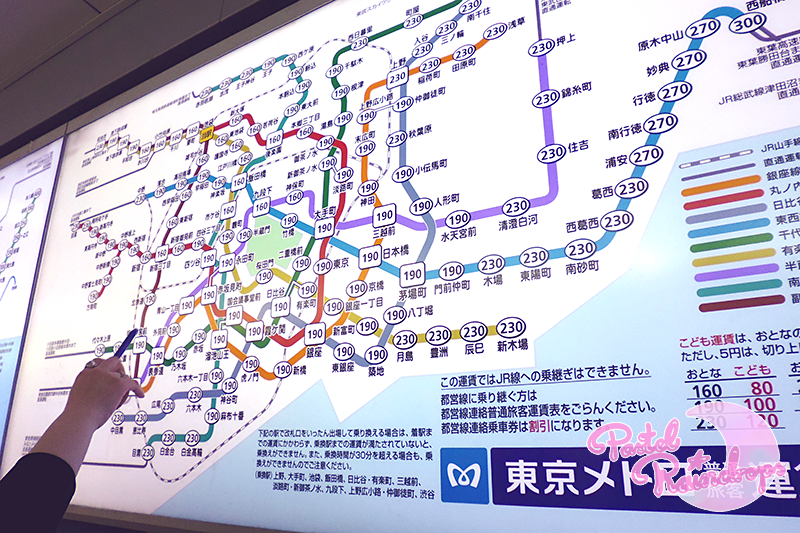 We visited a place called
CLUXTA
which is kind of like a beauty balon but which such an extraordinary concept that I kind of wish I had one like it in my town as well.
The salon itself is run by
Panasonic
and looks fairly normal at first. They have many beauty goods installed from make-up to electronic but the twist is that you will not get a beauty treatment there but can actually rent a space there for a small fee to treat yourself and use their products. It's something that is used my many different kind of people such as school girls as well as business women who use it to get ready to go out after school or to refreshen themselves for the next business meet. It's a very unique location I think and it comes in very handy when you are on a tight schedule.
Once there, we got introduced to the many different products they keep there and were offered to try some on ourselves.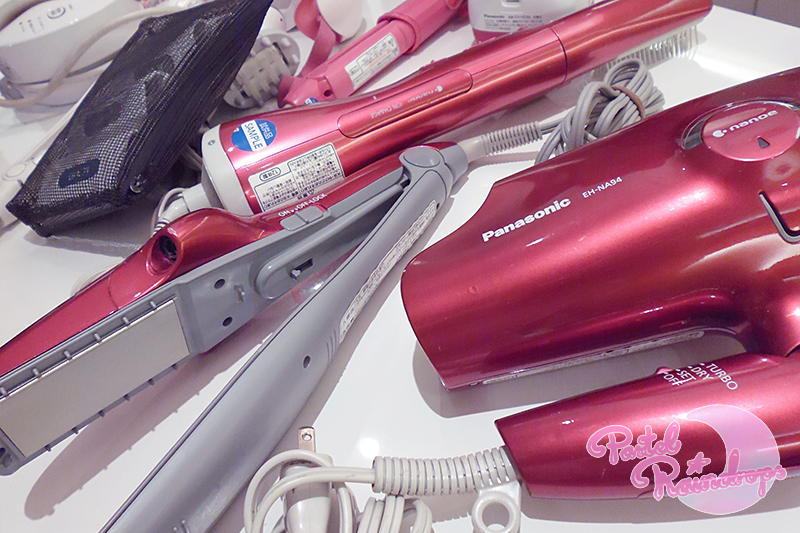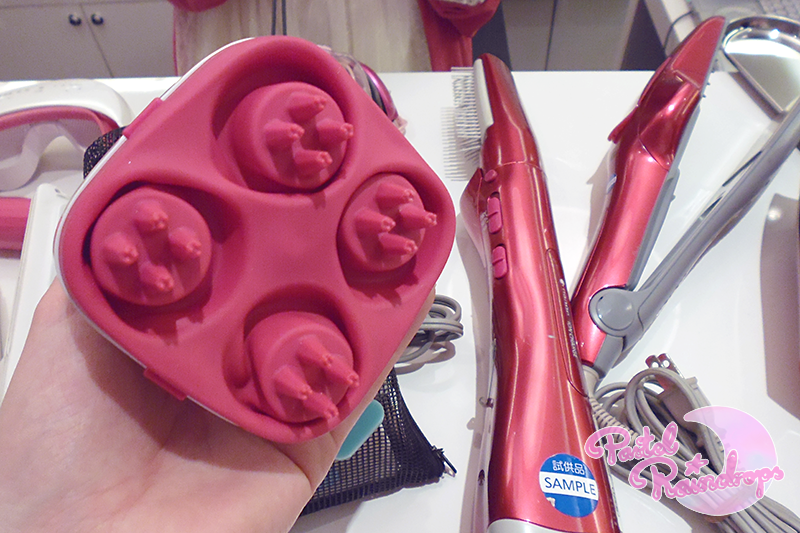 This one rotated weirdly and kind of reminded me of a little caterpillar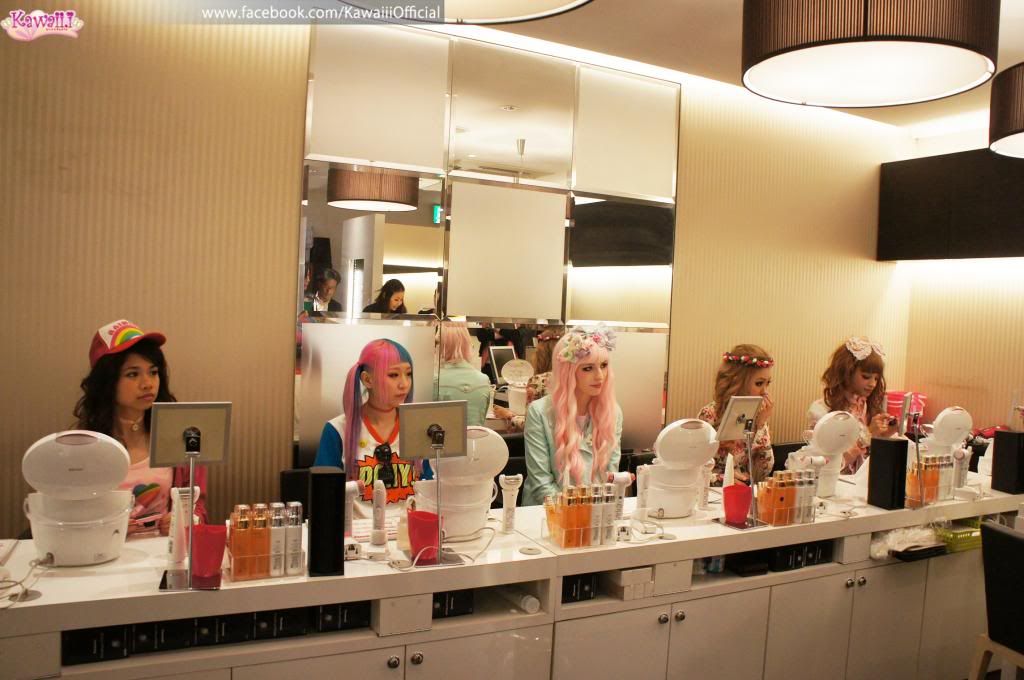 Listening to instructions...
All of the electronics we got to use there were ones I've never tried or seen in my life, which was exciting! The big Oval one was a machine that would give you different types of facial treatments using steam and such which was strange but comfy, feeling the hot air coming out of it. Kind of like a miniature sauna. There was also one to clean up pores, a pulsing device to stimulate the face and one to massage your skin in order to slim your face or legs for example. I think the last one was my favourite because the rotating gummy things on it just felt pretty nice.
After visiting the place we all got a lovely present from them, an electronic lash curler! It was something I've never tried before and I was really surprised of how well it worked. But I will talk about it in another entry~
Our next stop took us to La Foret in Harajuku!
And this is also where the massive picspam starts to please follow the cut for all that's next~
For those who don't know, La Foret is a huge departement store in the heart of Harajuku that has many floors and features lots of little stores from many, many fashion brands! Once you step through that door it's almost as if you've been brought to heaven. Seeing all the different styles and shops is so inspiring but it's also tested my money saving skills big time. But already seeing all the eye-candy was glorious and since we were allowed to take pictures I could save it forever as well.
The first shop we visited was JOYRICH!
It's a very cool store that brought me 90s-Fresh-Prince-ft-Miami-Vice kind of feelings. Lot's of bling, character goods and of course just as cool staff, but I'll let the pictures speak for themselves:
Next stop brought me to my very limits because we visited Nile Perch!
And well, it's amongst my favourite brands so I went a little overboard, simple because everything in there was adorable.
I think you can guess just how happy I felt being there -
But wait! There's more!
We also paid a visit to Angelic Pretty which is also one of my absolute favorites! Lovely dresses and ruffles everywhere. And not only that, the interior was also more than just wonderful.
I am actually 100% convinced that this was Marie's natural habitat ♥
After we finished rolling in cuteness our last stop would take us to MONOMANIA where 'cool' was once more the theme.
It's also one of the brands I love a lot (even though I own almost nothing from it) but I simply love the designs they have and could sure as hell empty the shop in an instant if only I could.
This was the last store we visited but not the last stop we made on that day. However, that would go beyond the scope of this entry, considering how many pictures I already posted. Thus, I'm afraid you will have to wait until my next entry to see the other things we did that day but I hope you enjoyed all this nonetheless, so far.
With this I say good bye for today but stay tuned for what is coming up soon!
Much love,
Mio~