Hellow!
I know, I know, I was going to write about this earlier but despite having "uni break" (aka the time when you finish everything that's left over from the last semester) I don't have much time for anything at all. Daily life struggles, work and university things add up way too easily.
Nonetheless, I've come to talk a little bit about my first day in Tokyo to continue my little series.
I didn't take many pictures that day since I got the habit to lock away pretty much all my electronics when traveling so I only have some from when I got there.
I started off in Bremen in the morning to say good bye to good old Germany after a quick stop in Frankfurt to get on a different plane. There I had a little time off to get me something to drink and wander around the airport when I spotted a lovely lolita around - Marie!

We were both a little hesitant at first because neither of us knew if we would be heading to the same destination but it turned out we were! So lucky for us, we already got to meet so early and got to take the same plane, that was really a lovely start!
On the plane however, I slept quite some time (like I always do, haha!) and to not get such a bad jet lag.
Once we landed at the Narita Airport we were warmly welcomed by those who invited us so kindly (and who are, by the way, so dearly missed now). I was so, so excited to meet everyone and look! Who's that? A gyaru girl? We also met Stella there, the next member of us five Kawaii Leaders!
Our first task was to take a few shots and takes for the show before we took a taxi to the heart of Tokyo where our Hotel was: Shibuya!
I remember just how awfully excited I was to be there. Right where I always wanted to be, in the midst of one of the biggest cities in the world - it was amazing!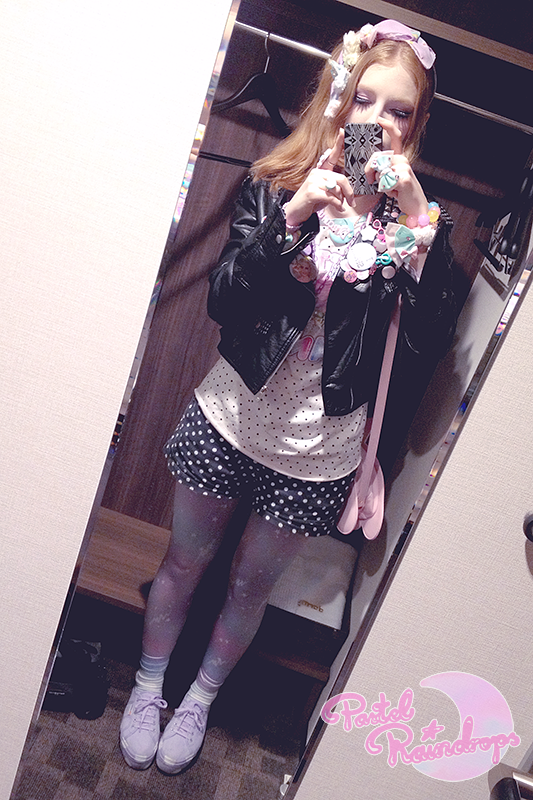 Here's my outfit for the day, more casual than anything but I wanted to be comfy while being on the plane, hence the lack of a wig~

Once at the hotel we got to take a little rest and a nap before driving to NHK's headquarters for our first meeting with EVERYONE!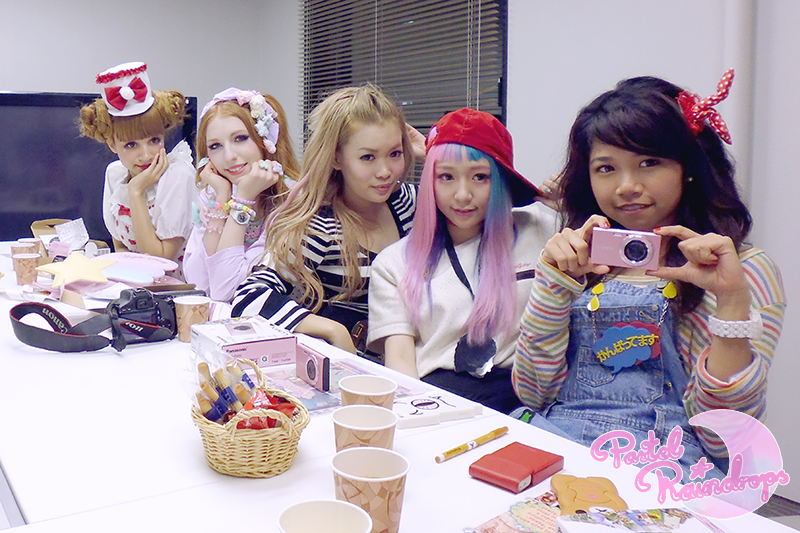 It was the same time we all saw each other and it was really lovely to meet all of these girls. Even if we didn't know each other before, I think we grew together so much in these few days and in the end it was more than hard to say good bye.
However, on the first meet-up we discussed some things about the schedule for our week together, things about the program, got cute little cameras (thank you so much again NHK & Panasonic!
♥
♥
♥) and exchanged some first chats to get to know each other.
After that we headed to have dinner at a beautiful Japanese style restaurant with the most delicious food and such a beautiful atmosphere!
Lastly the five of us together in the restaurant and the obligatory food pictures~
It may have been a day with a little schedule but it was still a long and extremely exciting day for all of us I think! Especially getting to know each other and joking around on our first evening together was overly lovely and I still feel so blessed to have been able to spend time with lovely people like that.
Next time some more adventures from Tokyo!
Much love,
Mio
♥