Hello cuties! ♥
I'm BACK! Back with some news that may interest you~
The hiatus is over, at least for now!
Why?
Because I got quite some things I'd like to share with you, beginning with this post.
It's been quite a while and in all of this time I haven't been just busy with university, work and my general life but I was also lucky to spent the time of my life. The title might have already given you a little hint and those of you who are carefully following my
tumblr
and
facebook
have already heard the news.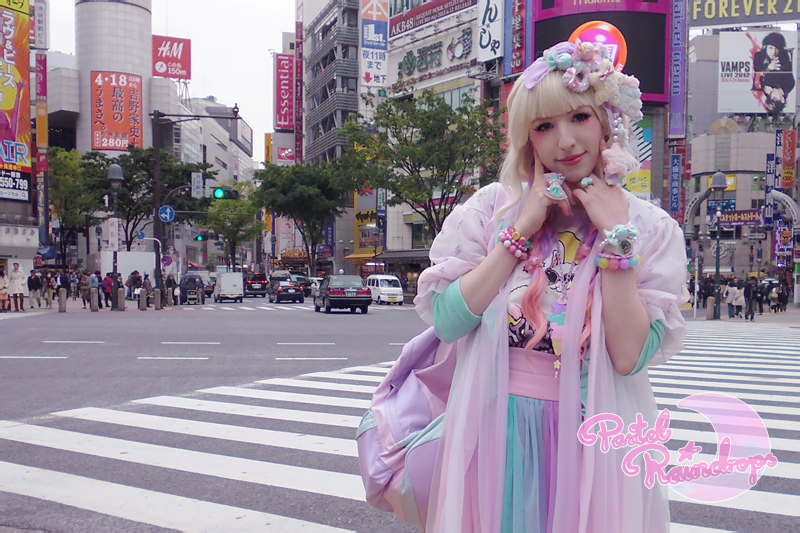 I've been to Tokyo!
Thanks to
Kawaii.i
who have chosen me to be one of their 5 Kawaii Leaders, I got to see the city of my dreams. And even though I had to tone down my pastel business so much due to my daily schedule I was able to dress up in my favourite clothes every day over there. It was truly, truly, truly the best time I ever had and it was even better because of all the people I got to meet there.
So in the upcoming posts I will write more about my journey around the globe and will tell you all the stories I can tell you ♪
As for now, let me introduce this project to you a little more~
"Kawaii Leaders" is, like I already mentioned above, a project that was brought to life by Kawaii.i which produces the TV program "Kawaii International" on NHK International. They were looking for girls to represent Japanese kawaii culture and fashion from Japan to the world and vice versa.
Our group consisted of
Stella
from Indonesia,
Marie
from France,
Kaila
from the Philippines,
Eva
from Hong Kong and me, Mio from Germany and while I'm at it I got to say I miss them so much, it's ridiculous. These four girls were really so much fun to be around and I'm so, so grateful for having been with them on this tour. But also being invited to be a part of this whole thing was the amazing and I wish I could just go back now. Because we experienced so many great thing but also since everyone on the team was plain wonderful and it was a fairly tearful farewell in the end.
However, and here comes the hopefully cool part for you, there is going to be a whole episode of Kawaii International on our adventures in Tokyo THIS WEEKEND! ♥
Yep! If you're interested in what we've been up to over there, please tune in!
Here's the schedule:
In Universal Time Coordinated (UTC) it's:
May 25, Saturday 15:10/19:10/23:10
May 26, Sunday 03:10/07:10/11:10
So please convert your accurate time and go to Kawaii.i's
webpage
to see our program!
In the meantime you can also check out their Facebook page to find looooots and lots of
pictures
from all the days we spent in that huge city and also for
Kaila's Kawaii.i Giveaway
!
Hope to see you again soon and I hope you will enjoy the show as well as my upcoming reports. Until then please take care ♪
Mio~