Or so the saying goes.
Some of you might've read this on twitter or the PR♪ Facebook page, I've been on a little hiatus due to technical issues. In fact, I still sort of am experiencing them but as for at least the next two weeks I found a way to skip them and go on as regular.
What happened in the meantime? I've worked many hours in my new job, which I like a lot, spent some funny days with friends and for right now - I'm being sick. Yes, I fetched a cold once again and it just won't let me go even though I'm being a good girl by drinking nasty teas, sleeping a lot and feeding myself with healthy cough drops and soups. And while I though I got better yesterday I've just spent a horrible night coughing my head off and ruining my throat.
But before all of the things I've mentioned above took place I've been a little bit crafty and made some lovely things which I'm dying to show you today ♥
I take you've most like seen these tie-dye ankle socks in another post before, huh? They were the beginning of another series of too much dye and too little fabric, here all completed on a pair of Monki socks ♪
Oh! Speaking of Monki - Have you already heard the great news coming from the fantastic woods of Monki land? They've recently opened an
Online Store
! At last!
Well, sadly it's not opened world-wide yet but I'm very sure they'll open up to more countries very soon ♥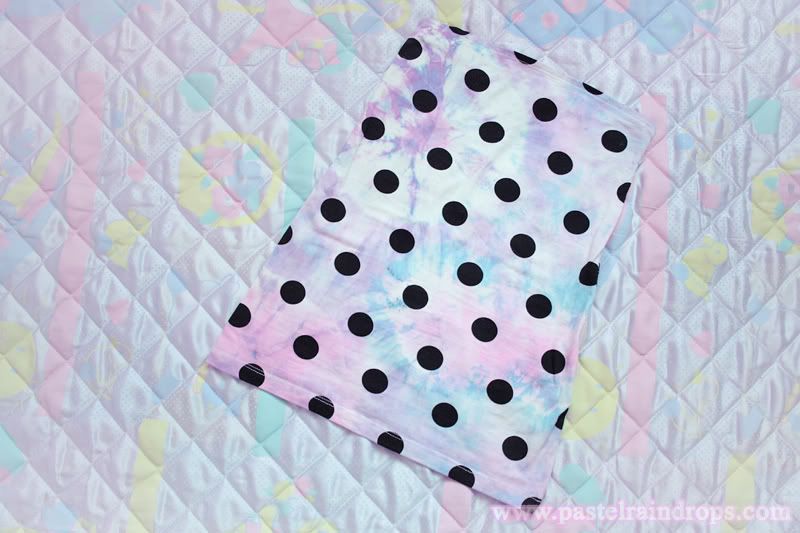 What used to be a tube top from H&M is now a a colourful pencil skirt. Dyed and reconstructed of course! ♥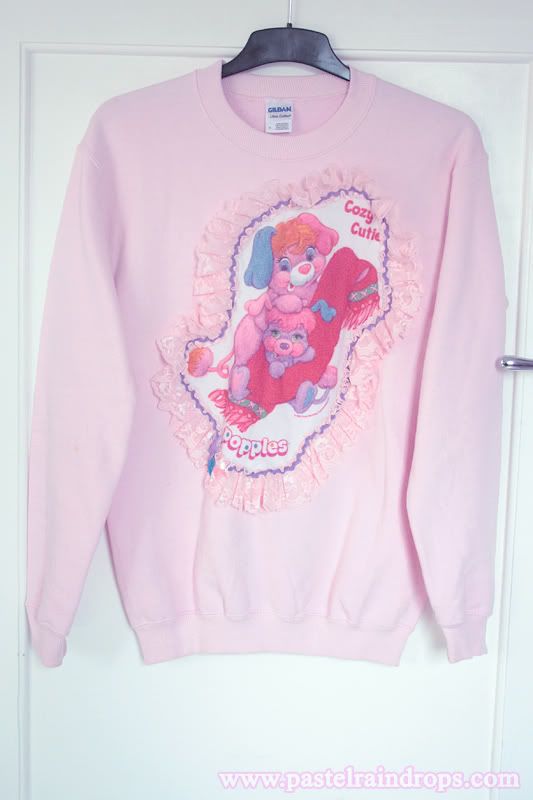 This Popples jumper is actually a project I've started very well 2 or 3 years ago! I just never got around to get all the material together in one piece. Made from a regular sweater, some old children's pajamas, way too much lace, bits of rickrack trim and some shiny appliques.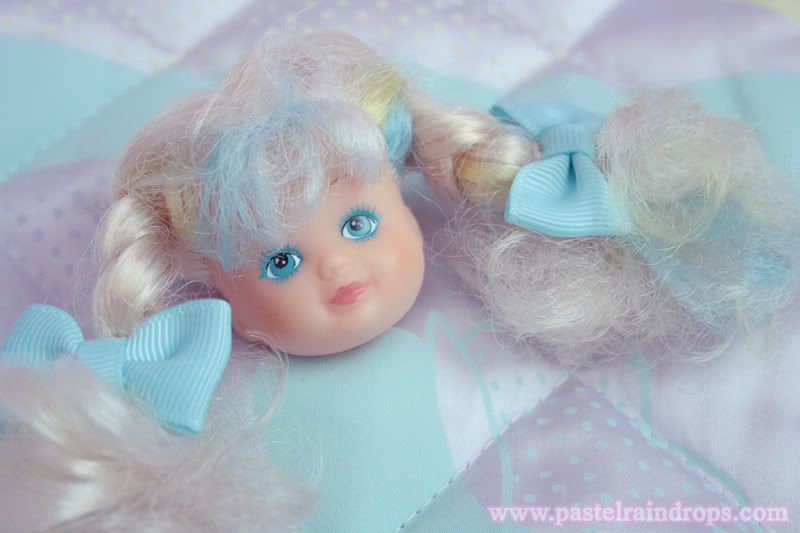 Poor Dolly has to continue living as a brooch ♪ But at least she still looks pretty, right?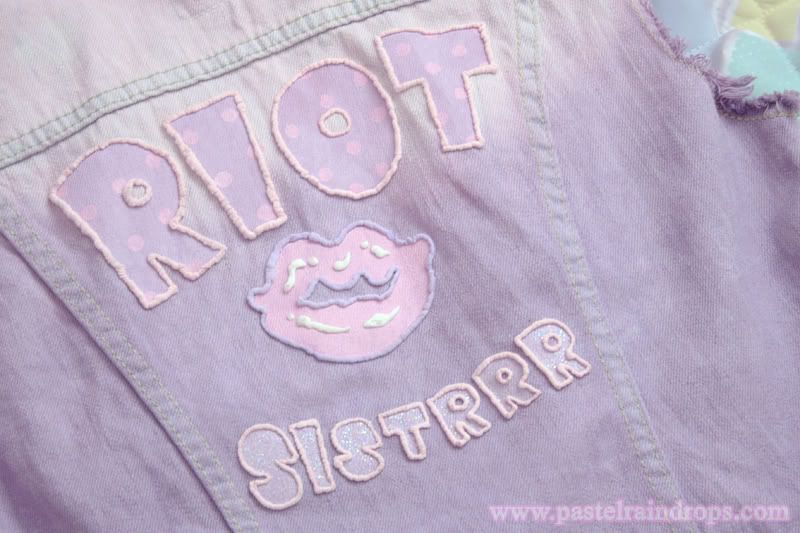 Glitter, pastels, polkadots and puffy lines - ARE YOU READY, RIOT SISTERRRS?!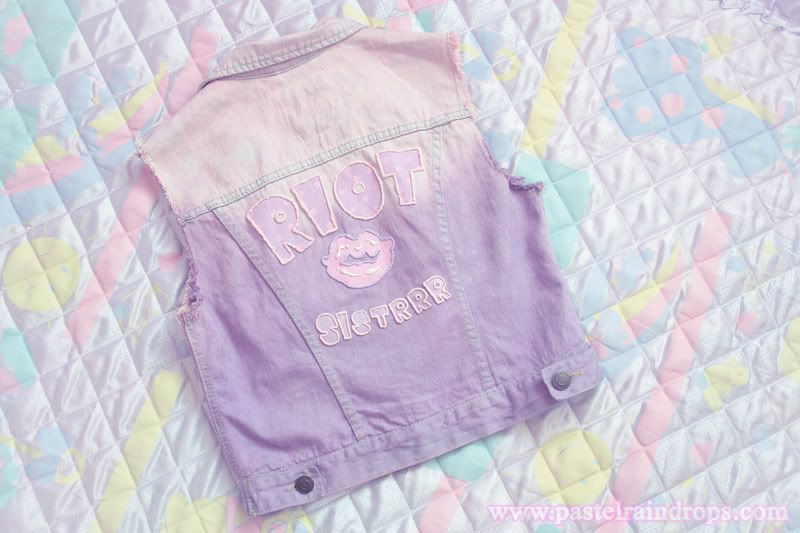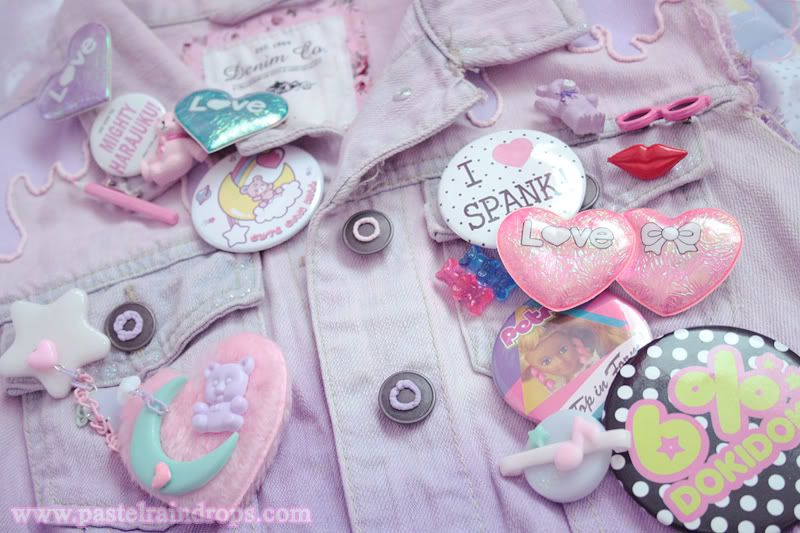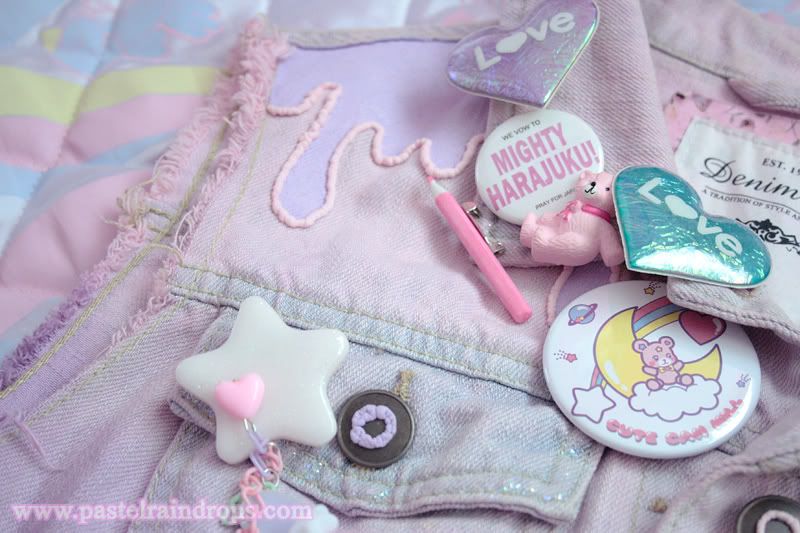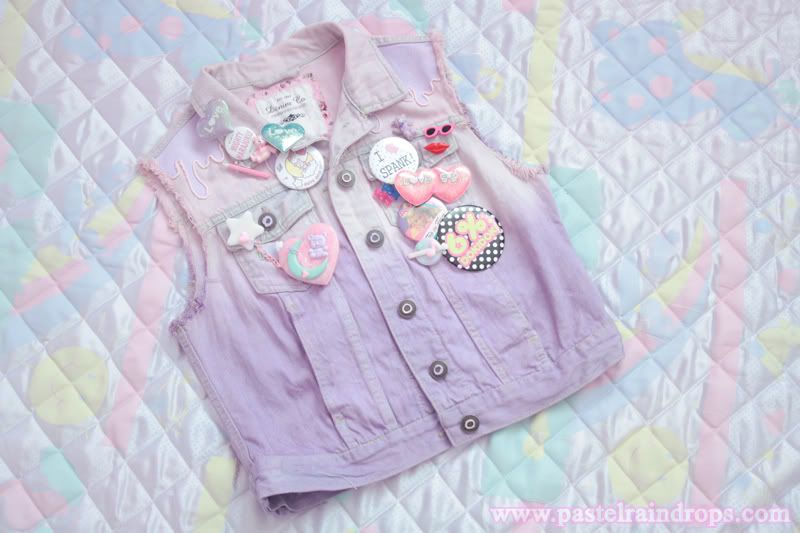 This vest is all my pride and joy! I've worked on and off on it over a couple of weeks and I don't think it'll ever be finished. I just take it as an ever evolving project of mine. And all work on this is made by my own two hands, of course. Dyed it like I dyed
my shorts
a while back, then hand painted it and lastly added lots of cute&kitschy detail to it. If there'd be one piece of clothing to represent me it would probably be this vest.
Most of the pins, brooches and buttons on it are from the flea market. Right after I 'finished' the vest I found myself lacking pins to spill all over it and what do I find the next day? Two hands full of glorious brooches and buttons for a total of 10 cents. I kid you not and I myself had to ask for the price twice because I refused to believe my ears.
Another recommendation from me: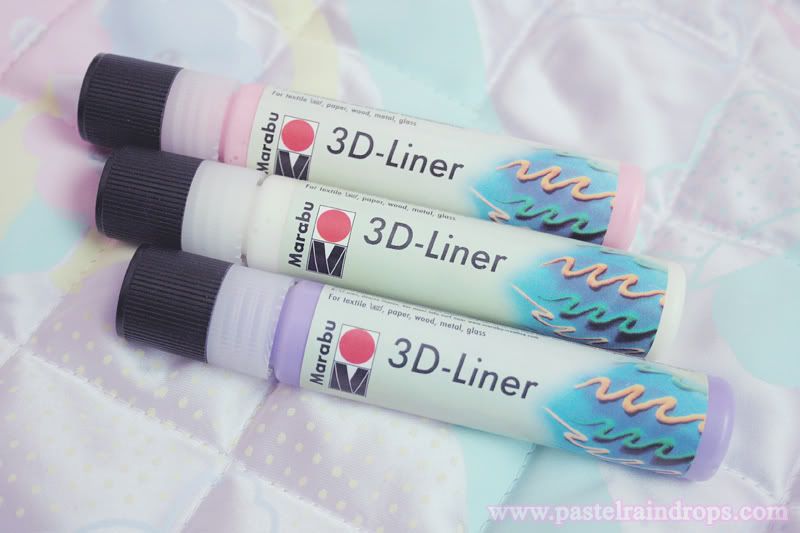 3D Liners! And let me tell you, they are THE SHIT! I used them for all the lines on my vest ♪
I think I paid 2-2,50€ per pen and they come in a wide range of colours and effects. The white one for an instant glows in the dark and there are also glittery ones. Along with Mimi I got them from the art supplies store but you should most likely find them online as well.
They're also pretty easy to use:
You apply them like a window colour pen and let it dry for 6 or more hours. So far the colours will look very weird but prepare yourself for the next step: 'Puffing' it up by using heat. Personally I prefer using a blow-dryer but you can as well use a flat iron or even put your things in the oven (as long as the surface you used is heat resistant, that is).
Once you're done you should have puffy, smooth lines with a velvet-y feel to them ♥
And that'd be it for this day! Actually there are some other's things I've finished but I don't flood you with so many things today.
On another sidenote: don't forget to enter my Giveaway if you haven't already ♥
To be honest I'm still very surprised by the amount of entries it got so far and the deadline only ends in two weeks from now!
But please make sure to post your name, your e-mail address and the direct link to your blogpost!
I've seen many people forgetting about that and I don't want to exclude anyone because of things like this so better check twice if you're unsure about anything and feel free to leave another comment to complete all your information for me ♥
I guess that's it for now ♪
I hope you have some lovely autumn days, my dears!
Mio~