I seldom wear a perfume but whenever I do I can't seem to get enough of it. Is there really anything that could enrobe somebody better and with more intent than a well chosen scent can? Oh even if there was, I wouldn't care. To me, there still isn't a more loyal companion than my favorite fragrance.
And though I don't know if my Opium really had something to do with it or whether is was the sunny weather, today was rather fine. Maybe one of the finest days I had all this week?
Perhaps I should drown myself in Opium more often, Yves Saint Laurent would surely approve.
Enough with this little study trip to perfumes and dreams. Actually I wanted to show you some of my most recent, as in I-found-most-of-this-moths-ago, flea market jewellery finds. Yes, yet another Shopping Update, sort of. I'm so full of creativity these days!
Today, I've walked over to our jeweller with my mom and as always we've stayed for such a long time, chatting about this and that. We also came to the topic how every person seems to have on piece of jewellery they love above anything and on the barely even wear. Our jeweller himself likes big necklaces and big rings, my mother brooches and earrings and big, big necklaces but can't really stand rings and I for myself have an obsession for big rings and big pendants.
But what I certainly inherited from my mother is the fact that, even if I may not wear it often or perhaps not at all, I do have a faible for every beautiful piece. And in case you don't know or wonder, my mother collects old jewellery of almost any kind and any time, which is why I couldn't ever say no to a beautiful gem.
Well now, Starting of which what I ever so love: Rings!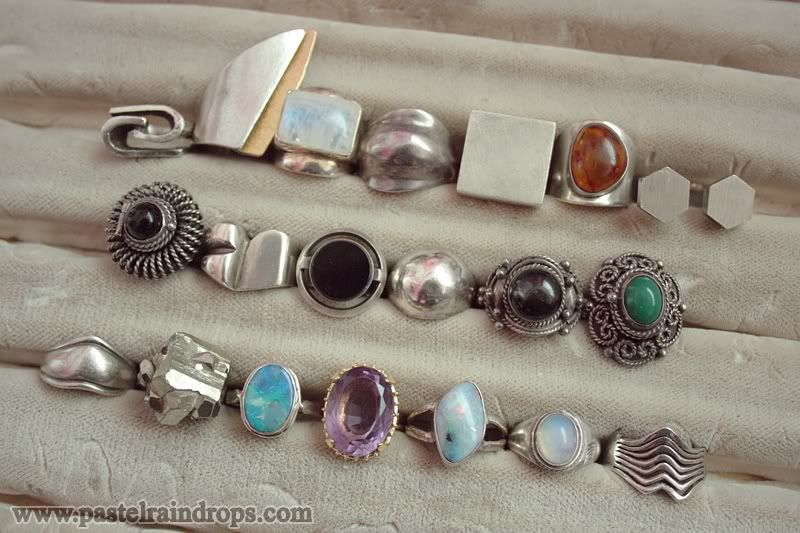 Among all the other more or less eccentric silver rings, some with my favorite gemstones: moonstone, amber, onyx, falcon's eye, aventurine, pyrite, opal and amethyst. No, you can never have enough rings. Never, ever. I'll never stop loving them, wearing them or collecting them. And oddly enough, you can find so many precious rings at flea markets for super cheap, it's almost a joke. Take the gold one for an instant: I've paid 1,50€ for it and it's not even a fake. Show me one other place where one could find a ring like that for so cheap. Flea market, I'll always love you ♥
Carnelian and Coral ♥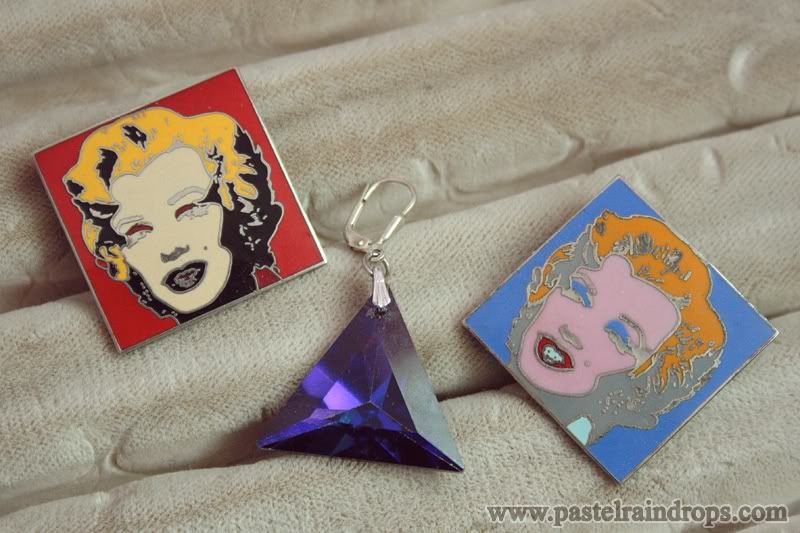 These two Acme brooches featuring the infamous Marilyn Monroe piece by Andy Warhol were a souvenir we found at an antique market in Düsseldorf and the earring is actually an older piece from my mother's jewellery case ♥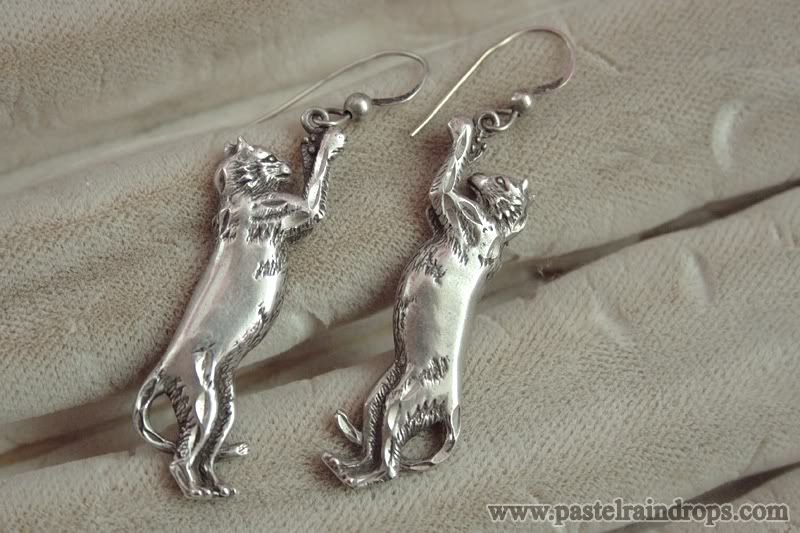 No, my ears can be as sensitive to silver as they please but I won't stop wearing these! Aren't they like, the most perfect earrings ever? For what more could a cat lover like me ask? ♪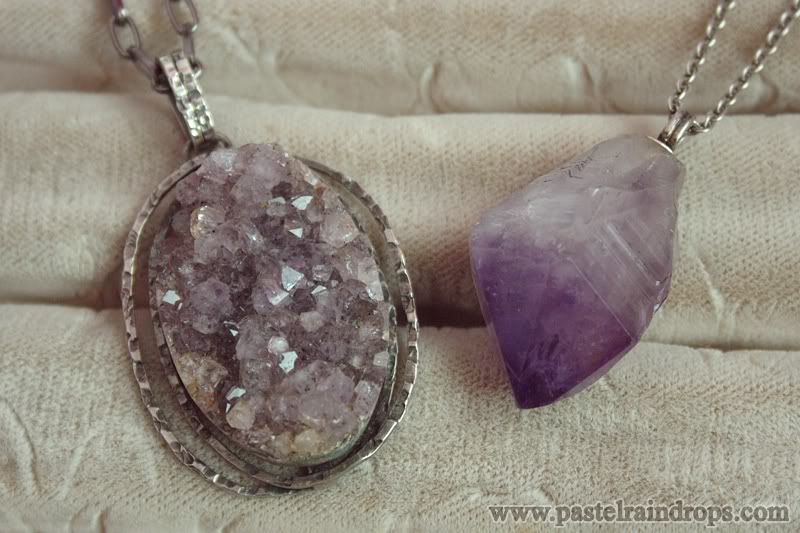 I have no idea why but for the past year, or perhaps a little longer, amethyst is calling me like mad and I can't refuse it. These are also the two pendants I wear most of the time at the moment.
Two kitschy brooches and a (too) tiny but very lovely crystal pendant. I can't wait until all the leaves turn yellow and red here, that's going to be the day I'll start wearing my leaf ♪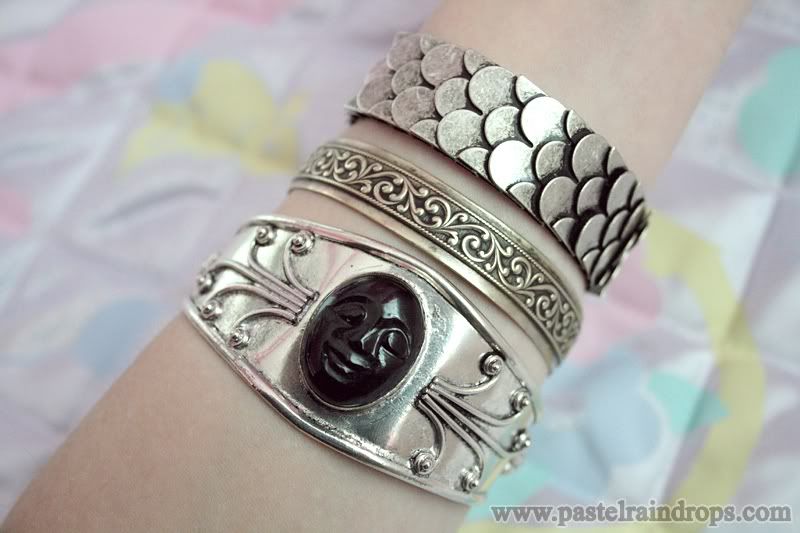 I really LOVE the upper bracelet because its pattern is so interesting! And the lowest is one of my all-time favorite bracelets as well. Such a charming face carved into the onyx ♥
Now, I'd like to know: is there a certain piece of jewellery you can't stand to wear at all or one you absolutely must carry around with you? Or what is you favorite piece of jewellery in general?
I must admit, I feel almost naked if I don't wear at least a little ring or a nice necklace when I go out. It's kind of weird but to me it's these little details that make everything round. You can wear the plainest shirt you have, a pretty gem will always make it complete somehow.
With this I leave you into the weekend! I hope I didn't write too much, why do I even rant like this?
Anyhow, take care && much love~
Mio ♥