Haven't had a review in a bit, huh?
Today it's going to be a short make-up review, specifically one about Foundation!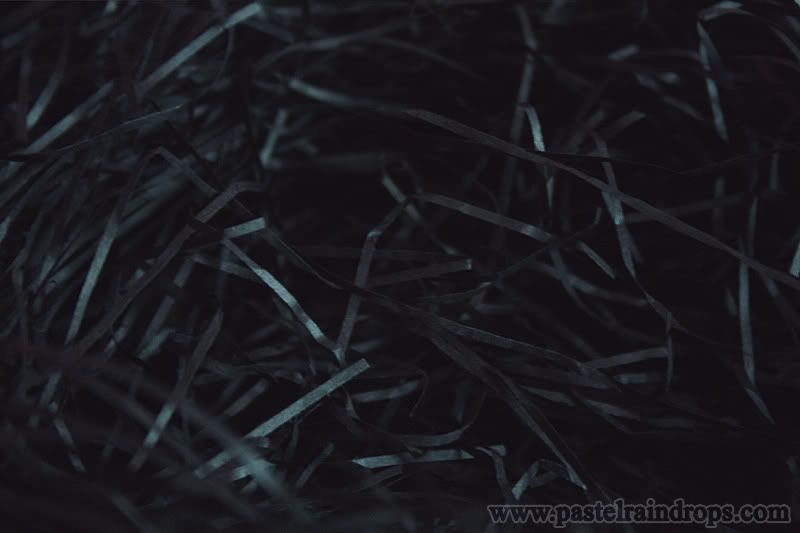 A few months ago I stumbled across
Illamasqua
products and heard and read a lot about their
Rich Liquid Foundation
. They sell a wide range of different colours and nuances from literally white to really, really dark, which made me quite curious. In the past few years I've had more than enough trouble finding a good make-up for my skin and my skin tone. Unlike some of you may think I have very troublesome skin and no day passes with at least one blemish to cover up. It's been like this for as long as I got into puberty and it lasts until today and makes me feel very uncomfortable. Though it has gotten slightly better since I've tried a new skin cream but I don't think it'll keep me away from the dermatologist.
However, because of that my skin needs a lot of coverage and because it's very light I need something that is very light as well. Searching for both of that in regular drugstores never gave me much of luck. Everything's too dark and/or has the wrong undertones.
Last year I got a TV coverstick from Kryolan and used it until this summer. I know, these are initially for theatrical make-up purposes but I got it recommended by a friend and it did quite good work. Except for the fact it didn't last long and my skin felt greasy and shiny after a few hours, obviously. Not what anybody would want on their face.
After thinking a little bit back and forth I decided to get the Rich Liquid Foundation in SF 105 which is the second lightest tone available.
The transaction went very, very smooth and I had absolutely no problems with my order which came in the mail about a week later, neatly packed in a little black box and lots of black shredded paper, along with their Spring/Summer catalogue.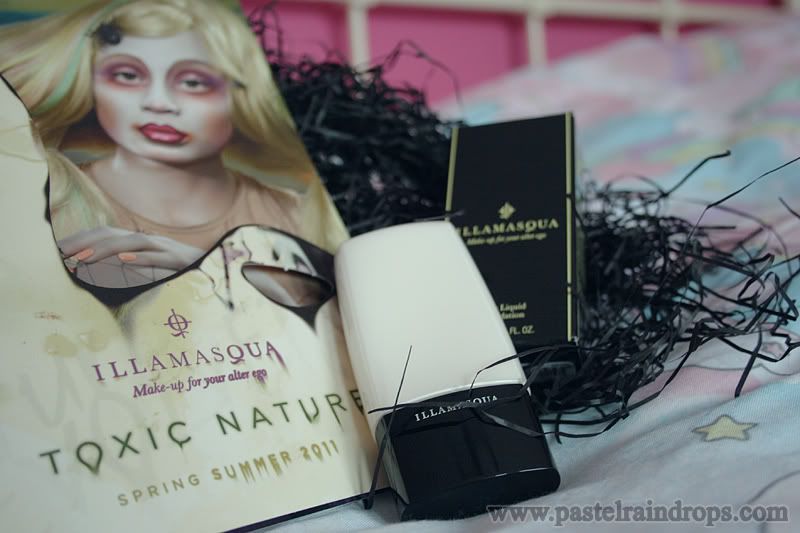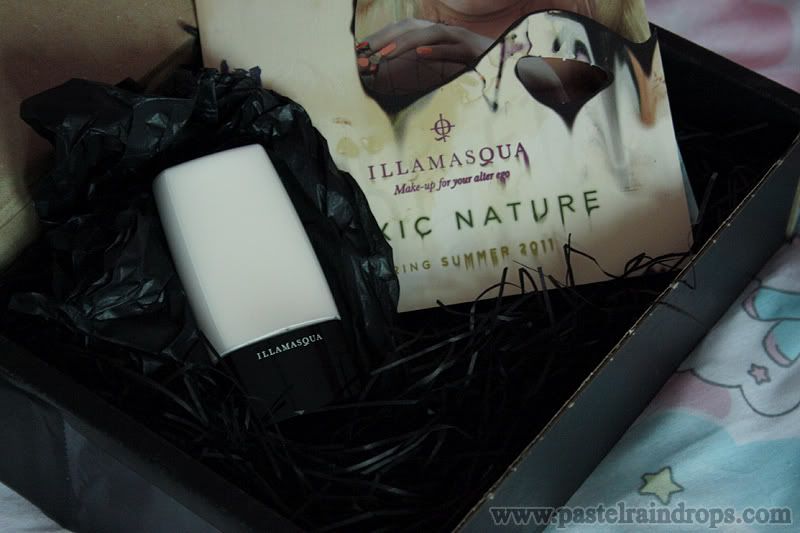 I don't know about you but I already find the entire packaging exciting enough - but you all know, I'm a sucker for that. Illamasqua's entire concept is freakishly fantastic, anyhow.
Of course I immediately tried it out and started using it and to my surprise the foundation was lighter than I thought! Actually, I didn't really expected that because you never know how true to colour things like that make up. Which is also why I always prefer to directly try things out at a counter or even with the assistance of somebody who know more about this than I do. But as I don't know any place that sells Illamasqua products in my fishy little town I couldn't go for that and just pressed my luck.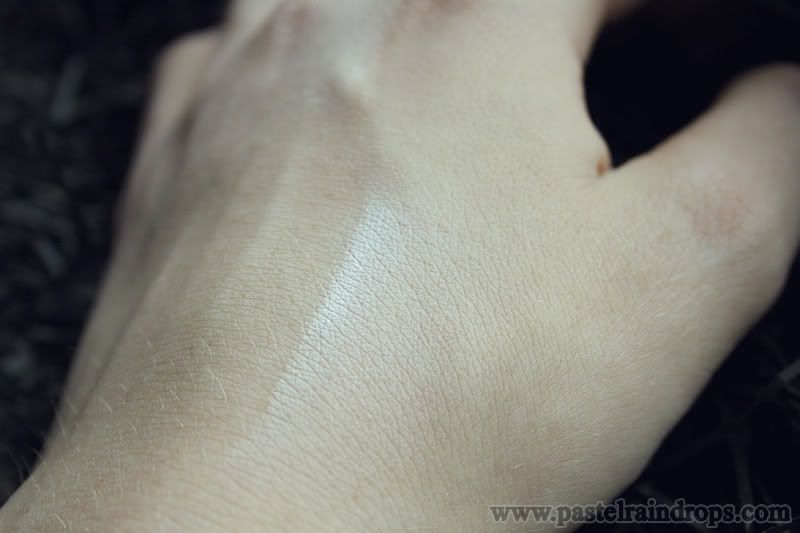 This is the pure foundation swatched on my hand and I think you can tell the difference quite well? I tried to get the colours as true as possible, I don't know how well that worked. But the skin on my hands has very well the same tone as the skin on my face as I don't tan at all, ever (I merely burn).
Compared to my skin tone the foundation still is very light and if I'd use it on my face I'd probably look even sicklier than I normally do. So, in order to avoid scaring all my neighbors, friends and parents I've mixed it with a bit of H&M foundation that I still had and - voilà! It matched up quite well!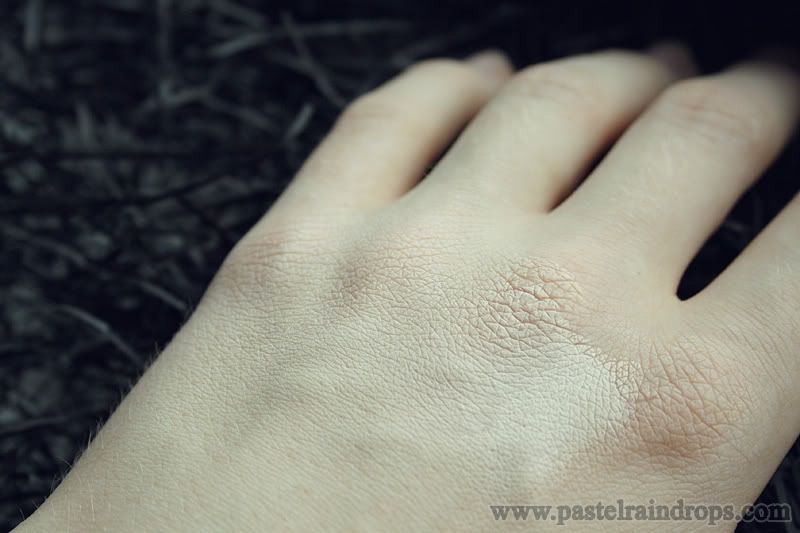 It's still not perfect, though in my opinion. My skin has some yellow undertones, at least that's what the kind lady from the MAC counter said, and the other foundation I've had doesn't. But it all ends up with the MAC mineralize powder in the shade 'light' I use, so it's alright!
Now I'm using this foundation mix for about 2 months or perhaps a little longer and I am quite content. At least it's a lot better than what I've used before and the fact I need to mix it doesn't bother me too much. It's very easy to apply, blends well and it feels very soft and has a nice smell. The only thing that bothers me, again, is that it doesn't stay on as long as I like it to. In the few hot summer days we've had it quickly started to feel a little greasy as well and I felt as if my make-up would drip off my face. But I must also say that this may be caused me my combination skin as well or even by the other foundation I use along with this one. However, I feel like it isn't the perfect match for me again because of that. Also, even though it's said to have very good coverage it doesn't cover up as much as I'd like and need it to, so that's another minus as well.
Overall I'm not disappointed with this product, though. Other than the two things I've last stated it still works pretty well for me and the other products I use along with it. And it's at least a thousand times better than anything I've used before! Also, it's pretty abundant and in the time I've used it it barely shows up in the bottle .
To me the hunt for the perfect foundation sadly didn't end with this, and if you have some suggestions I'm happy to hear them, but it's a nice change and certainly a good product to use while still hunting.
Oh! And before I forget about this - Along with 149 other cool peeps I've made it in the last round of the Bloggers Wardrobe project which is a voting on Facebook. If you have a minute to spare, please give me your vote and I'd be forever thankful ♥
It's really just that this is such a huge opportunity to me and it's a great chance I wouldn't want to miss. I'd probably go crazy of joy if I'd be one of the last ten bloggers to take part in this, so if you'd like to lend me a hand with this I'd happily take it. And voting is pretty easy, too: Just hit the 'like' button of the
Bloggers Wardrobe fan page
and then head over to my entry over
here
and 'like' the picture as well. Compared to all the others my last chances are very little but I'm not giving up yet ♥
Lastly, I must say that I'm amazed my all the entries I've already got for my
giveaway
. Thank you all so much for taking part in it! ♥ I would've never imagined to see so many people there, so I'm very, very happy!
Now then, my bed is awaiting me and the rain is already here to sing me a lullaby ♪
Much love, my lovelies!
Mio~
♥