It feels like I haven't posted anything in years! Sorry for the little time-out but we're kind of busy with renovating right now and in the meantime some other good and bad things happened. I try my best to keep posting frequently nonetheless, we'll see how well that goes.
I've been debating with myself to whether or not split this post up into two but I guess it wouldn't make too much of a difference, it would only confuse things instead. Just prepare yourself to find a very picture heavy entry this time!
In fact I was going to post this much, much earlier but you know, life and such. So here I am now with an updated 'tour' through my room. Unlike last time, where I made
a video
about it, I'm bringing you some pictures of everything. A whole lot of things have changed in the two years from when I first made that video, my room is much more crowded now. I don't know if that's rather a blessing or a curse but what does it matter anyway.
Without further ado, Let's just start right off!
My room is still the same and so is the assembly of my furniture. The way it is now is simply the best way to place everything while having the most space.
My room is also more or less divided in two because of the original partition of this floor. My 'dressing room' used to be some sort of bathroom, we assume and then my bedroom and my sister's room used to be one very big room, which is parted by a wall now. And wall that used to separate my two rooms is partly removed ever since. That much about the theory of our houses architecture.
This is what my dressing room looks now~ ♪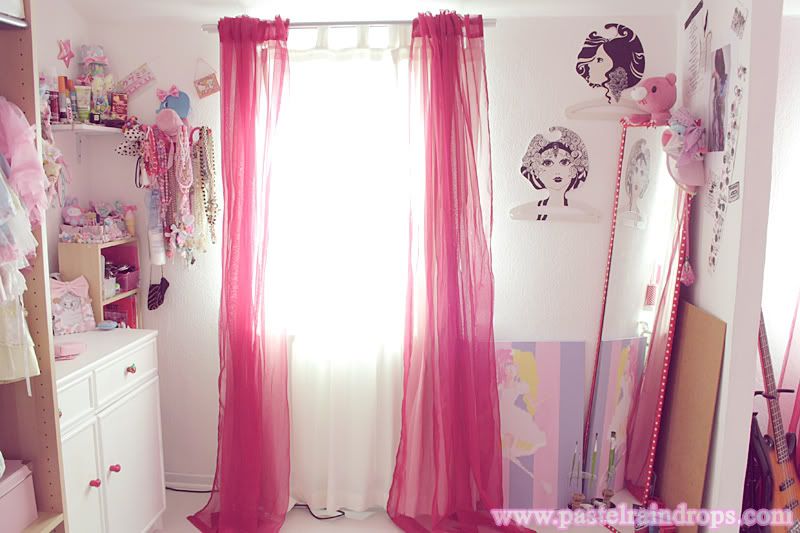 When you enter my room ♪
And from the middle of my room. This corner is like the heart of my room~ ♪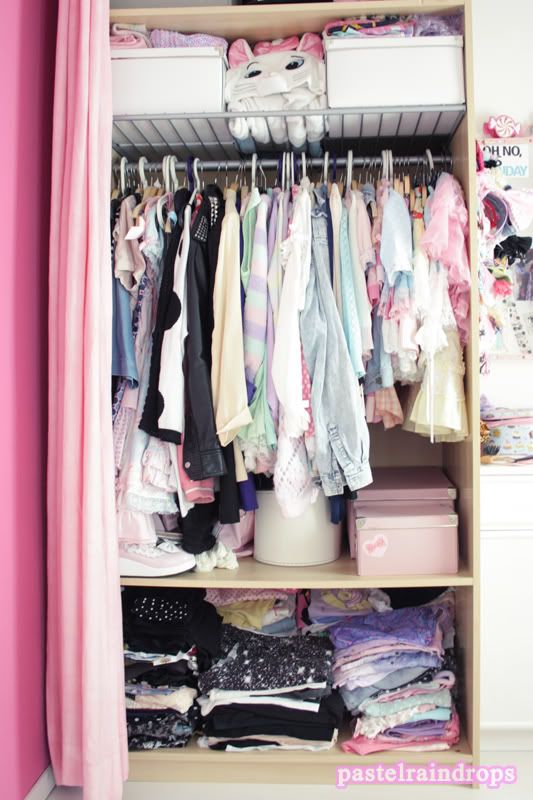 My closet on the left, next to my dresser ♥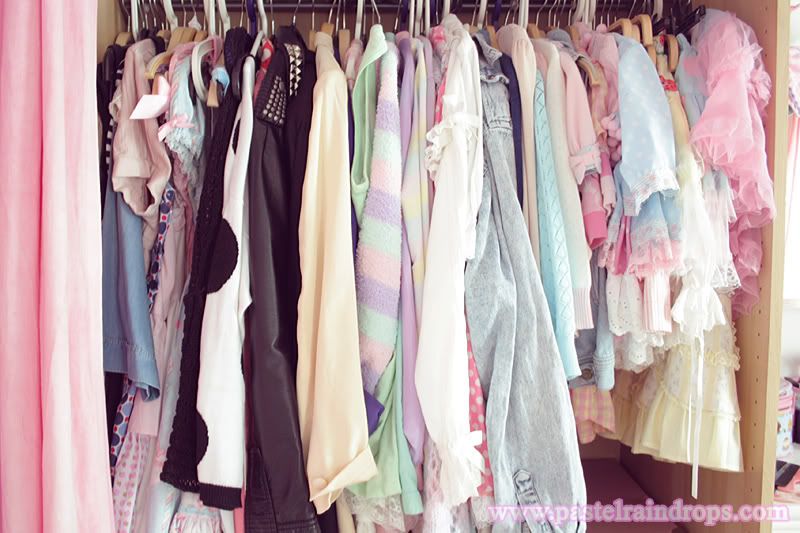 My clothes don't have a certain order, they're only assorted by type and style. Above I have all my dresses, big sweaters, jackets, cardigans, blouses and skirts. Below on the outer sides are all my shorts and skirts, in the middle my my shirts, in the back my sweaters, pajamas and old jeans, T-shirts and tanktops ♥
The top of my dresser ♥ Around here I keep all my make-up, accessories, jewelery and hair things.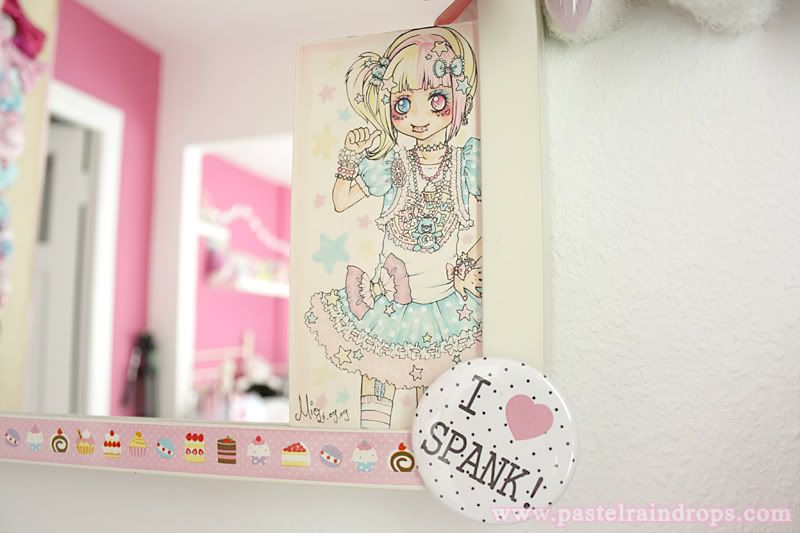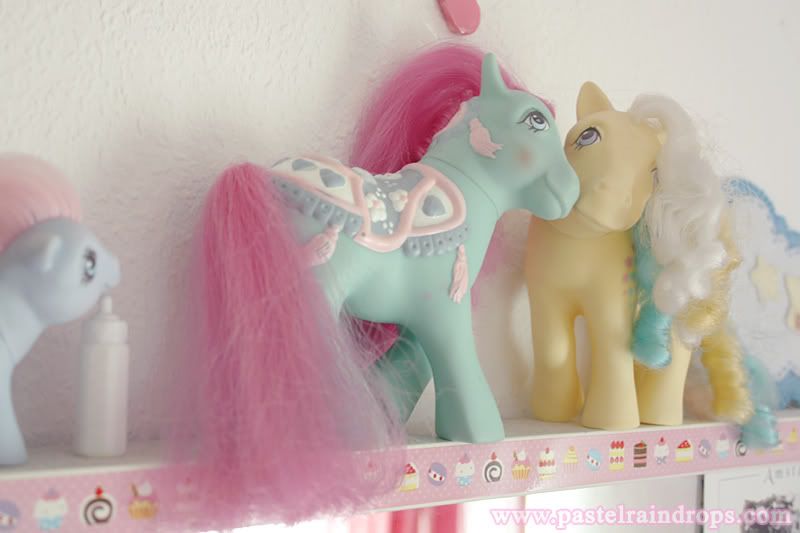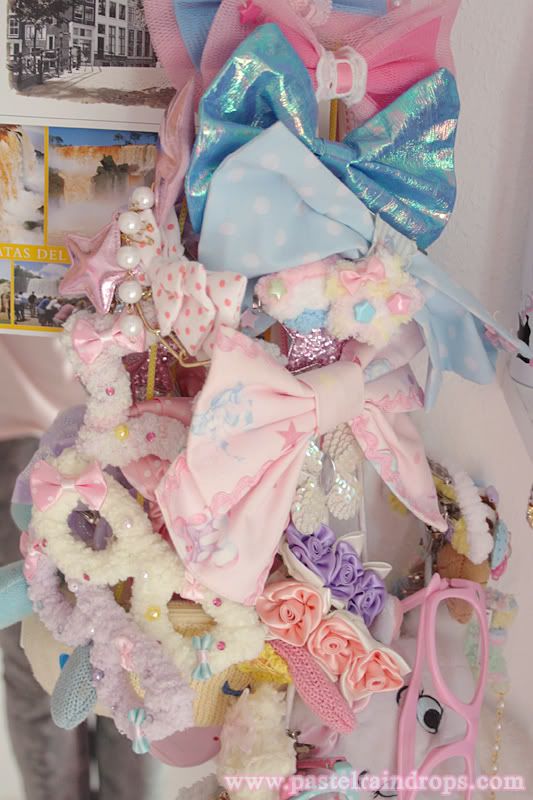 The shitload of accessories I call my own, postcards, souvenirs, ponies and random kitsch you'll find all over the place ♥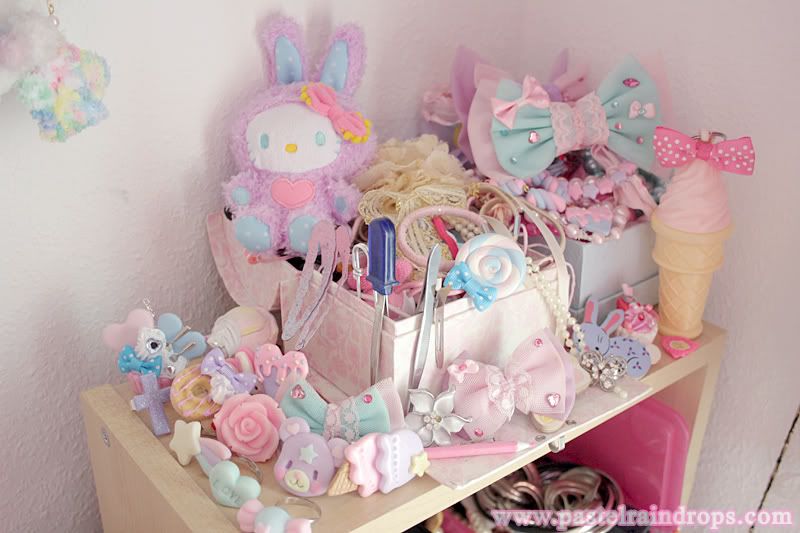 The top of my small rack next to my dresser. On top I keep my hairties, bracelets, rings and brooches. Inside of the rack you'll find more bracelets, bangles, nailpolish and DVDs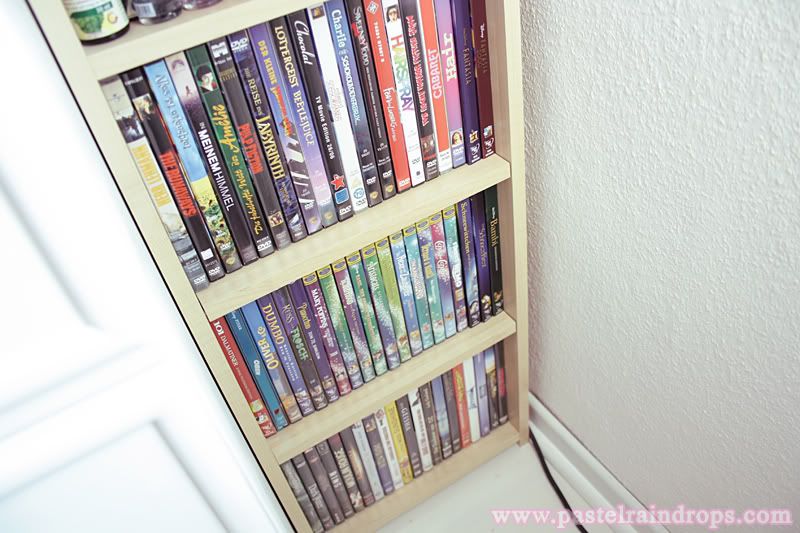 My DVD collection! I wouldn't ever want to part with that. Though I'm still missing a bunch of my favorite movies it still represents what I love fairly well so far ♥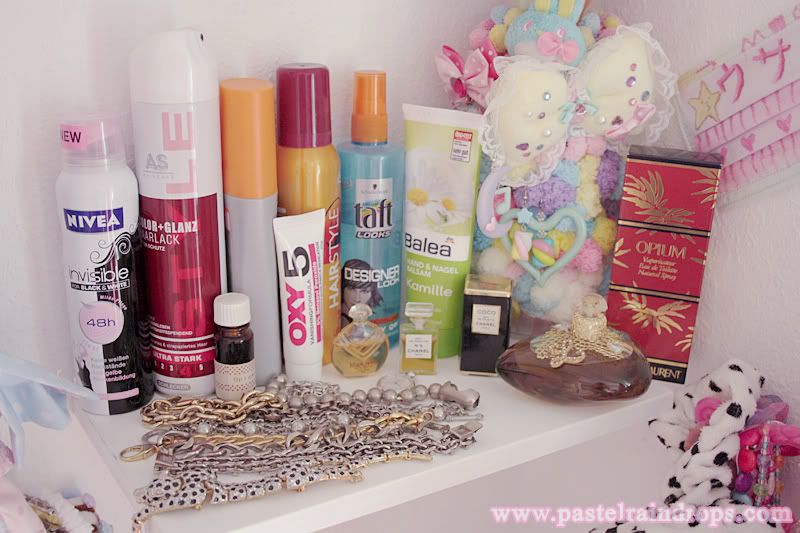 Another small shelf, right above the other rack. Here I keep some beauty products, more jewelery and my favorite perfumes. My very favorite is L by Lolita Lempicka, followed by Opium by Yves Saint Laurant and Coco by Chanel.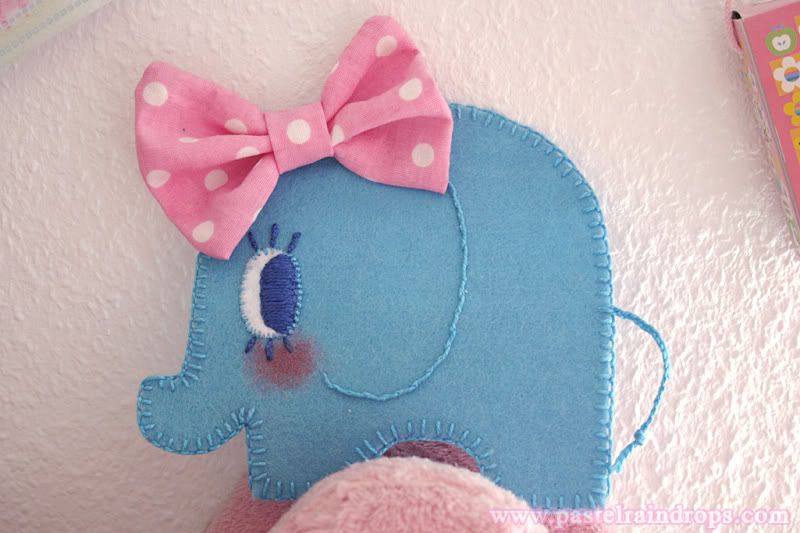 A brooch I've made ♥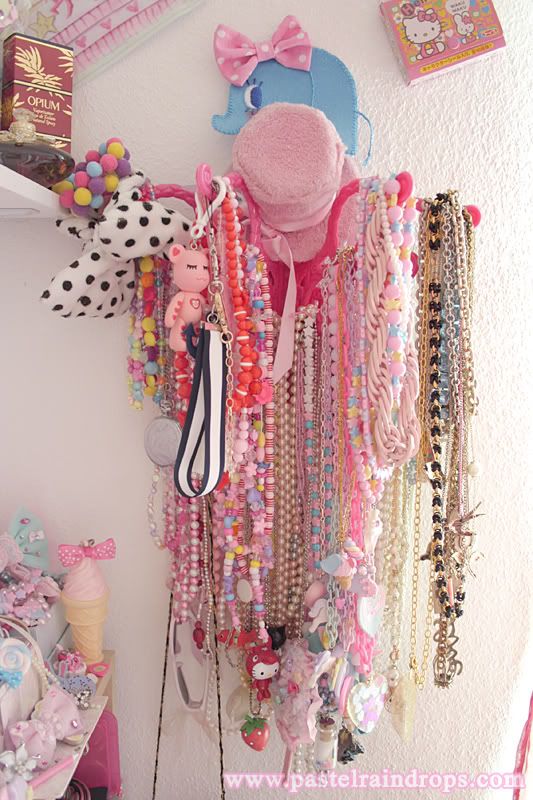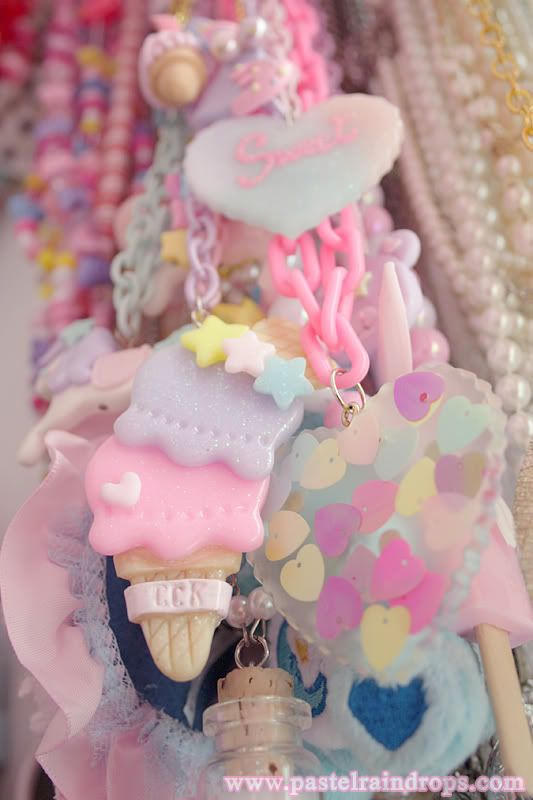 This coat rack is what keeps all my beloved necklaces safe ♥ Though I wonder why it's still hanging, considering the weight it has to hold up.
More jewelery can be found on my sill, where I keep all my pendants, brooches and most important: my rings!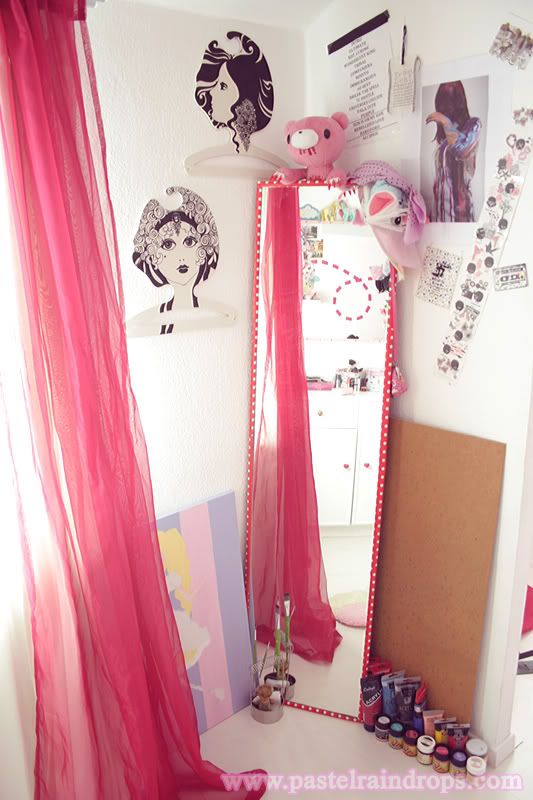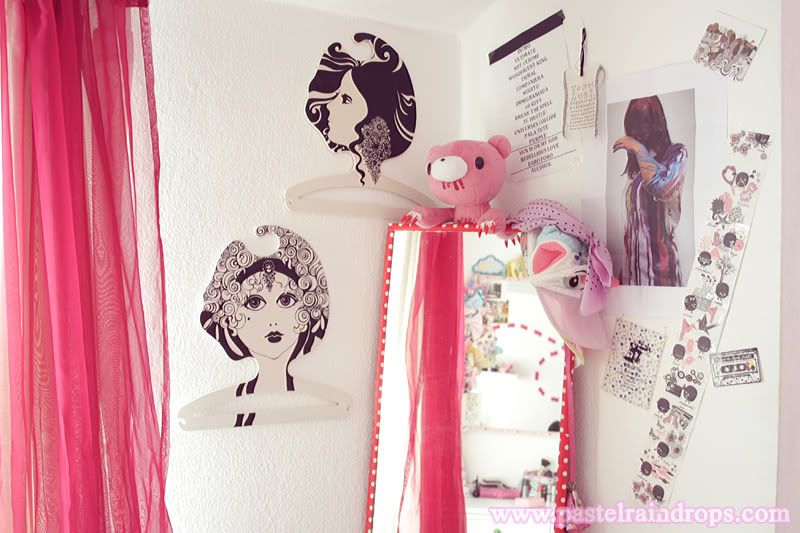 Getting dressed without this big mirror? No thanks, haha ♥ Here I also have all my painting supplies and a painting that I haven't finished in far too long. The walls are decorated with Monki receipts, flyers, clothing tags, a setlist from a Gogol Bordello concert and the two old clothing hangers my mother found at the fleamarket. I seriously love them to death!
That's all the things you could find in my dressing room but I keep most of my stuff in there. My bedroom isn't as crowded and also a little bigger.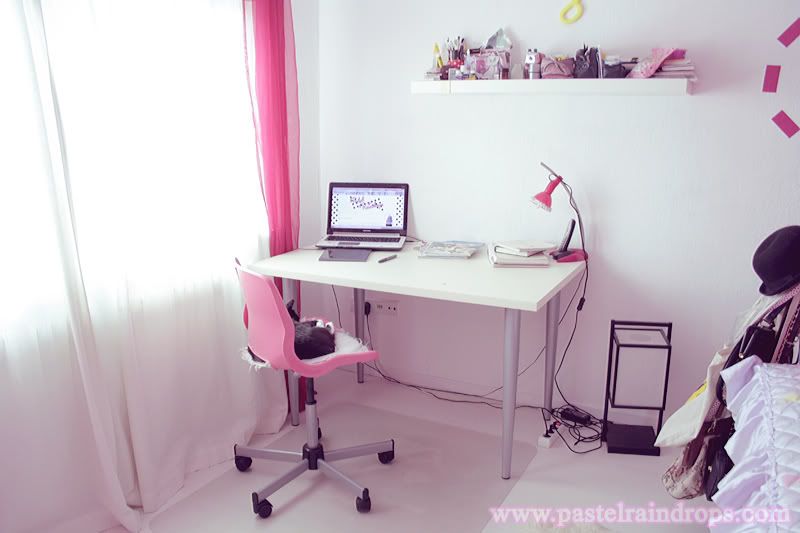 The first thing to see in my bedroom is my bed on the right and my desk to the left. Here I work most of the time, craft, sew or draw. Ronja is blocking my chair again, like she always does ♥
The shelf above my desk where I keep some drawing supplies, notebooks and other useful things. You can also see my wall decoration, the big yellow scissors are still there ♥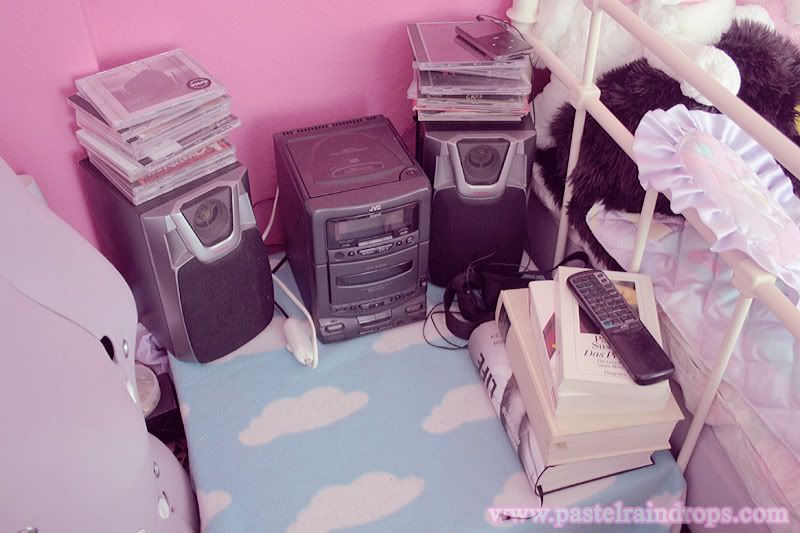 Hidden between my desk and bed is where I have my stereo, CDs and books, crafting and sewing supplies, my sewing machine and my dress form.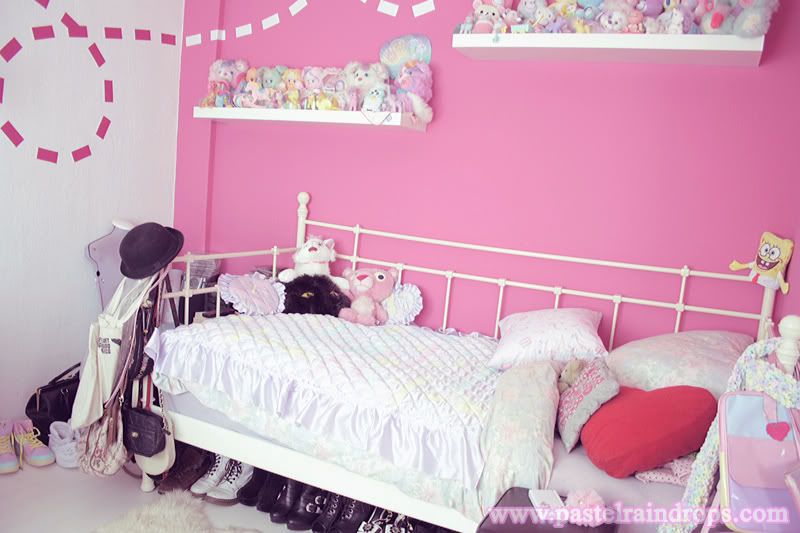 Finally, the place where I dream my weird dreams, my bed ♥ Above I have shelves with all my vintage toys and underneath are pretty much all the shoes I have. In three rows actually, I'm running out of place for them! There are also a bunch of bags hanging from my bed posts.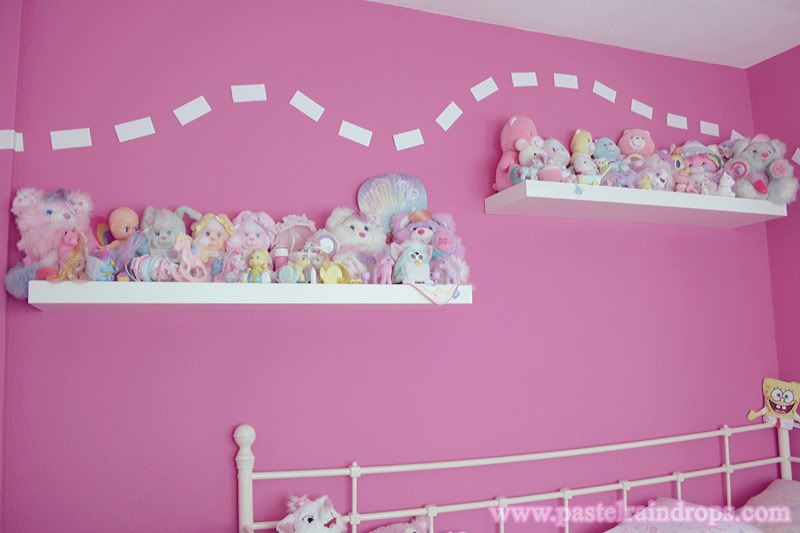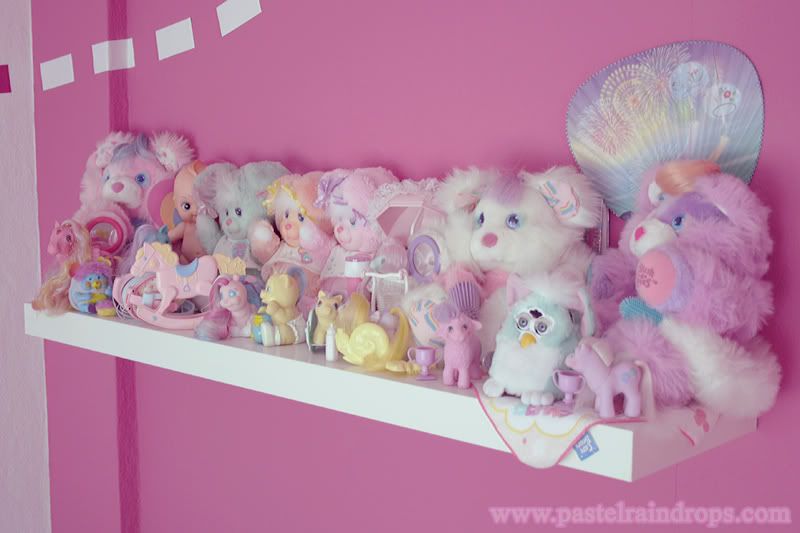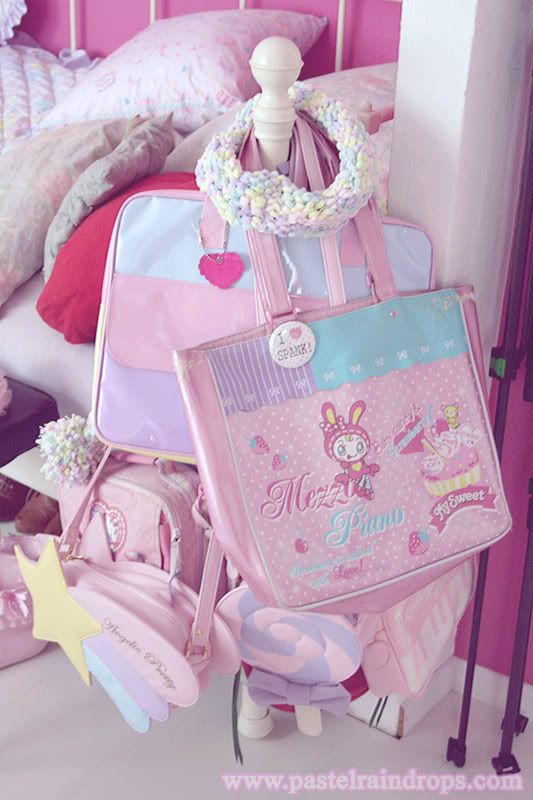 And now that is all ♥
I hope you enjoyed the little picture tour through my room and maybe now you have a little better inside into how I live. But if there's anything else you'd like to know or like to see, just tell me ♥

Also, I wanted to take a minute as well to thank you all for your great support in the Kawaii.i contest! I wouldn't have thought of this to happen but I actually really made it! I can't thank all you guys here and on Facebook enough for your help and the love you gave me.
But also in general. I get so many cute messages and mails that help me keep my head up even when I'm sad. Reading your sweet words always cheers me up somehow. I really wish I could travel the world in order to meet every single one of you and to thank them in person. Because of this I'm also working on a little surprise again and I hope to have it ready very soon. Stay tuned ♥

But now I need to head downstairs again! We ordered bulky waste for tomorrow and still need to put some old things outside. Finally we're getting rid of all the things that blocked our living in this house, one step further once again ♪
I hope you guys have a wonderful weekend!
Much love ♥
Mio~