There I go again, this time with a less colourful outfit and something more casual.
You say 'colourblocking'? I say 'why not'? Even though I didn't do it on purpose.
To be honest, I'm rather happy I can blog again because I was almost afraid I wouldn't be able to in the next time because of, once again, technical issues. Seems like something sneaked through my firewall and took a bite off some of my programs, including editing programs, and after a long struggle between trial and error I had to reboot my laptop. Now everything works again, though. At last! For some moments I felt really stranded in this entire situation, including some minor and major anger attacks. I hate it when things don't work like they're supposed to be.
Last month, while
Mimi
was still over in Bremen, we took a little trip to the waterfront and I wore out my fancy Betty Barclay blazer. I'm not sure but I don't think I've ever shown you a picture of it being worn or did I?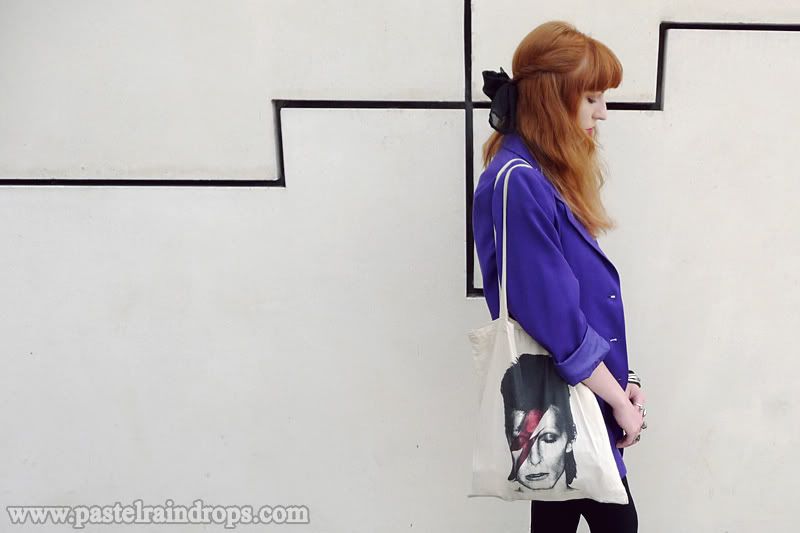 Blazer - Betty Barclay; Shoes - Vagabond; Skirt, Shirt, Hair bow - Monki; Jewellery - Flea market; Bag - Berlin
Hell, words fail to describe how much I love this blazer. I wish I had more things in this shade of deep violet blue in my closet. Black clothes start to pile up, so do the pastels but I pretty much don't have anything in a dark blue or green. Maybe I should change this for the upcoming fall/winter.
It's also about time again to do a little Shopping Update because I didn't do one in a while. Then I can also give you a better view on the wedges I'm wearing here and on a bunch of other things.
There's also going to be a big, big surprise coming of for all my readers this week! Those who follow
my tweets
probably already know a little about my plan but all the others shall find out this weekend so make sure to check back ♥
And now I wish you all a lovely day or night, whatever goes for you!
Take care, lovelies! ♥
Mio~