You've got to be kidding me, right? Almost two weeks passed me by just like that since I last made an entry. Now I really get kind of suspicious, there must be a black whole or a place-time-vacuum surrounding me, else I don't have a proper explanation to where all this time goes.
In the meantime I was in Bielefeld to catch a sweet rejection and finished my assignment for the UdK Berlin. Next Monday my exams in Bremen will start as well and in the end I can only hope all this leads to something good. A nice place at a nice university would be something very sweet now.
Nevertheless, I actually have quite some things I've yet go to show you! There will be some upcoming reviews, pictures and Shopping Updates as well. I just need to find some free space in my schedule and my mind to do all these things. Right now I'm a bit overwhelmed by everything but that's just the average madness.
Then, was is last month? Sometime in the past few weeks I ordered custom made buttons from an Ebay seller. I found myself lusting over the Spank! buttons for way too long but I never found anyone online and if I found them they were sold out already. But I really wanted to have at least one so instead of whining about how I never found any I simply made my own.
So I grabbed some nice patterns, tried my best in copying the design and font of the original buttons and searched for a shop to make them real. And I did!
Greener City Designs
on Ebay did a pretty good job on them. The buttons are nice and big, the communication flawless and the service good. Only the colours, specifically the mint, came out a bit wrong but by now it doesn't matter to me anymore, I like them ♥ Et en plus, they also threw in a free magnet with my design~
In the end I paid about 2€ per button which is still a good price in my opinion, considering that they are pretty big.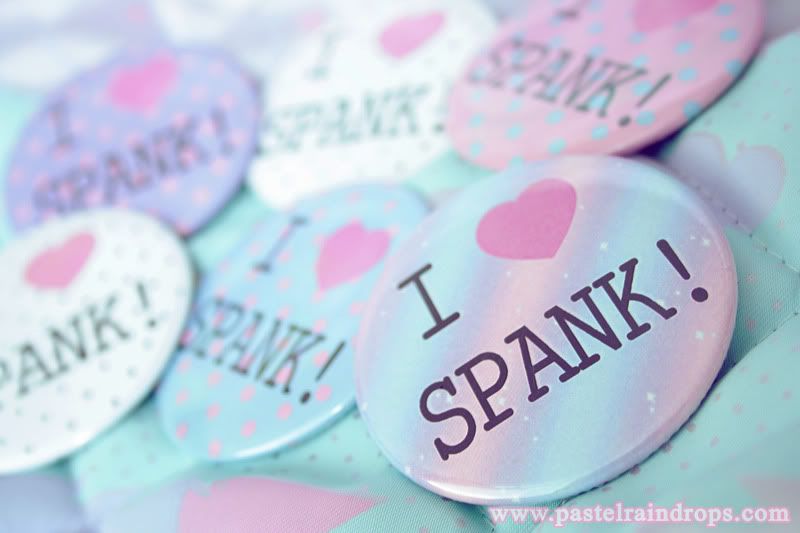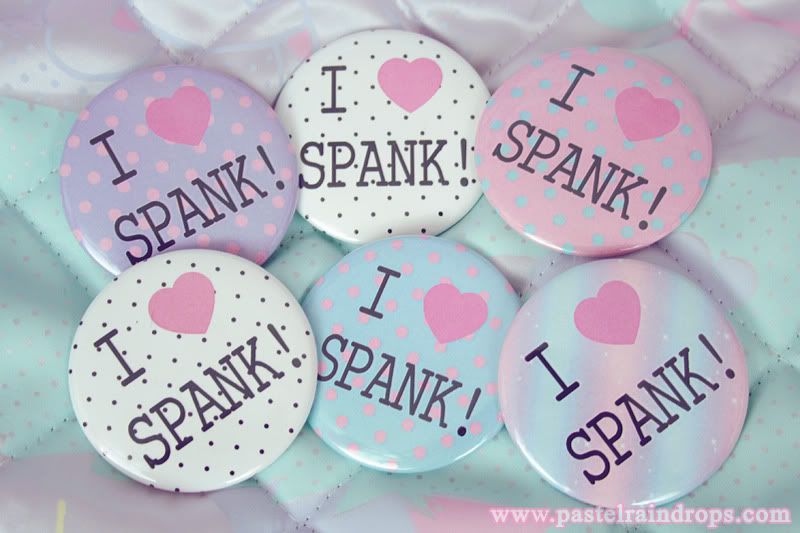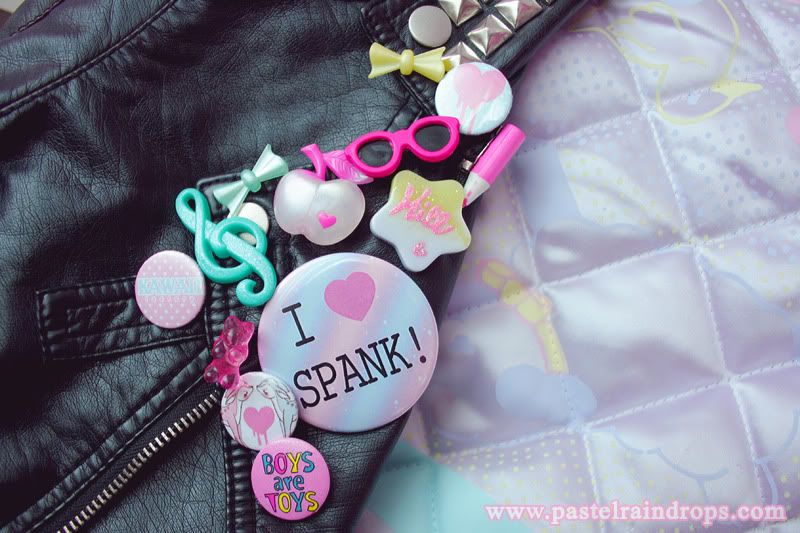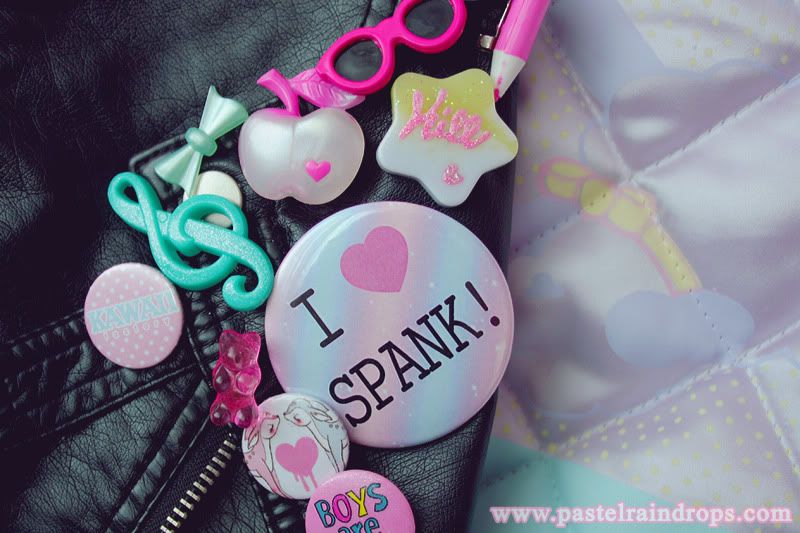 What do you think about them? ♥
I really love them and immediately threw them on everything I could. On bags, on a dress, on my mirror and as you can see also on my biker jacket. Though, I'm slowly running out of space but also love that jacket more and more. I really need some more spikes and studs to decorate it, or some spray paint so I can customize the back.
In case you want some Spank! buttons of your own I put all my designs, the ones you could see here and some more, together for you to enjoy. You only need to cut them with an editing programme and make sure to safe them as a png so they stay clean and sharp, but even MS.Paint should be able to do that ♥
But when you're using them, please only do so in a private manner. The original design doesn't belong to me and it doesn't belong to you either so don't use it to make money out of it.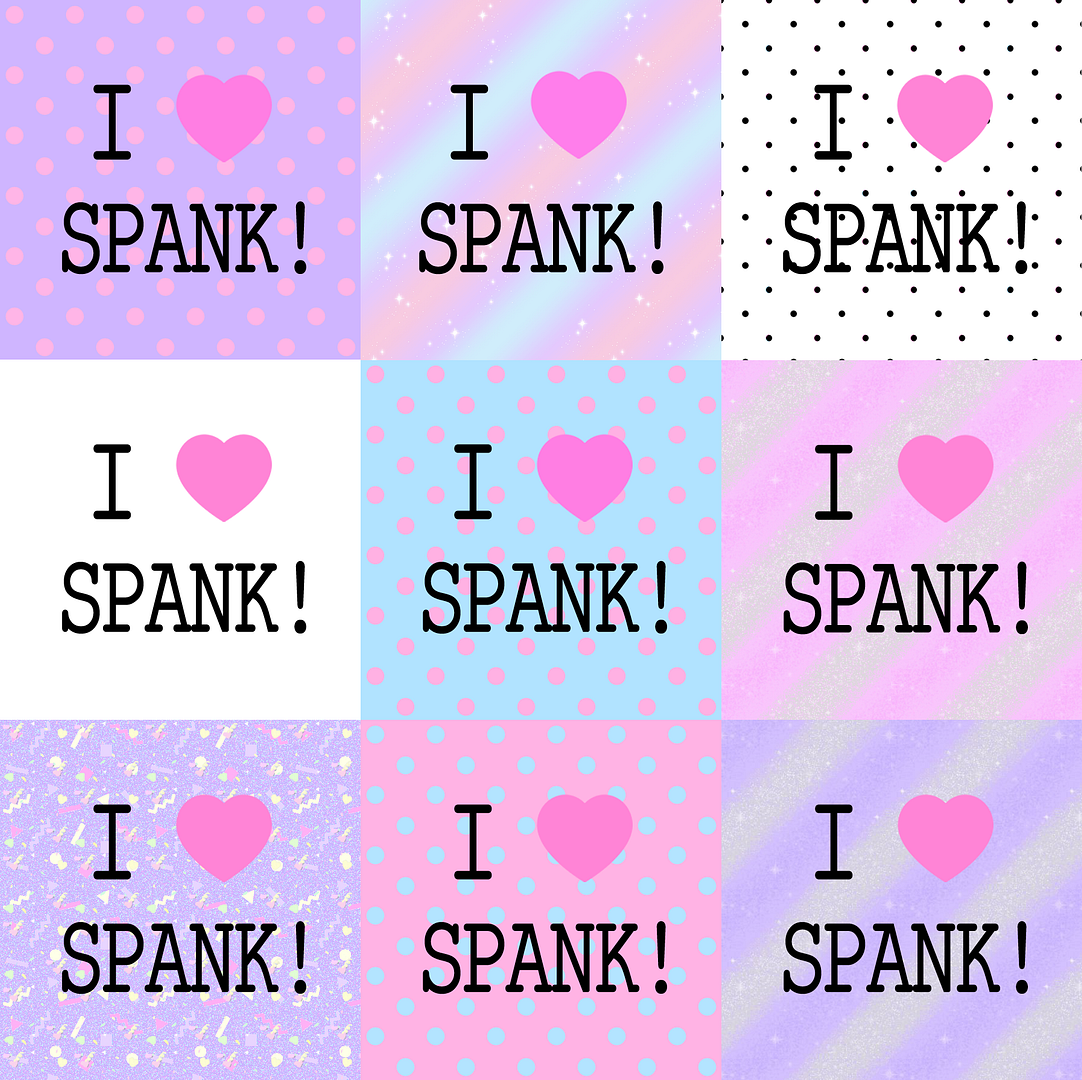 Just click on the picture and it should pop up bigger ♪
I hope you enjoyed the designs and the buttons ♪
See you soon, lovelies! Take care until then ♥
Mio~