It's time for some art, isn't it? At least I feel this way, obviously, since I have something new to show you!
It's a drawing I've been working on since... since forever it feels.
If I remember it right I made the first sketch for it about 5 years ago and since then a lot of time has passed. To be true, I always wanted to turn that sketch into a big drawing but for whatever reason I never did. So it slept many years in my sketchbook instead of becoming real. But I could never really forget about it. So after some years I made another sketch of it but once again, it only remained a sketch and stayed pretty much untouched until about 2 years ago. That was when I finally decided to touch up that sketch once again to finally turn it into a real piece.
So, I sketched it once again, all neat and nice on some Copic paper and eventually start to do the outlines. When I was almost finished with them I noticed something really unfortunate - I used the wrong side of the Copic paper because the papers got lose and I confused the two sides.
For those who don't know: Copic paper has two sides and one of them has a special surface to not let through any ink. That means you can only colour on one side or else the markers will start to smear.
After I noticed my stupid fault I didn't touch the drawing for several months because I was angry about myself and also pretty demotivated because of it.
But we all probably know, after rain comes sunshine and so I started it over again! Working on it every now and then. Sometimes more, sometimes less sometimes not at all but eventually I finished it and I'm very, very happy about this.
Because of this long way this drawing really means a lot to me, also for that it kind of grew with me, little by little. I think I never put so much heart and dedication into a piece until now.
Now I don't want to thrill you any longer, let me show you the drawing ♥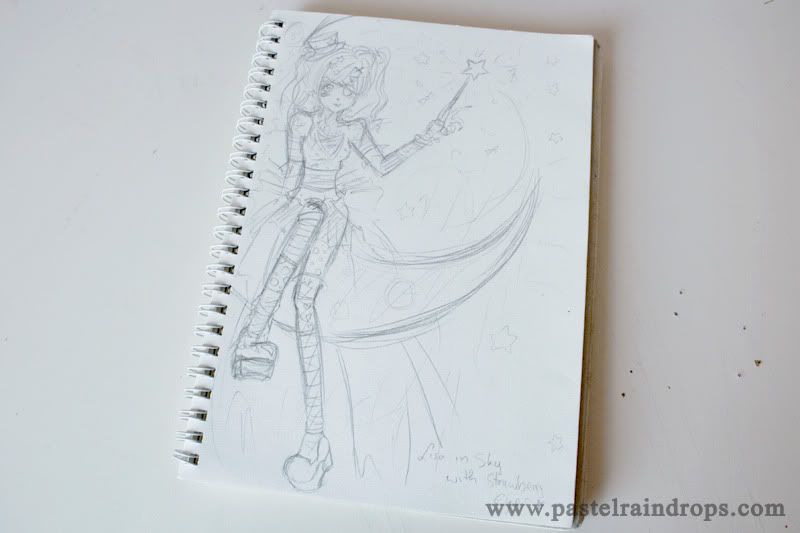 The very first -and very sloppy- sketch ♥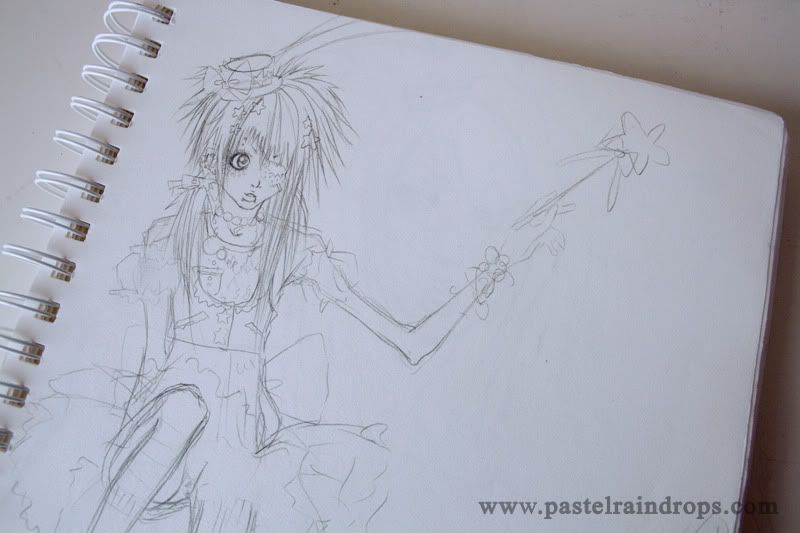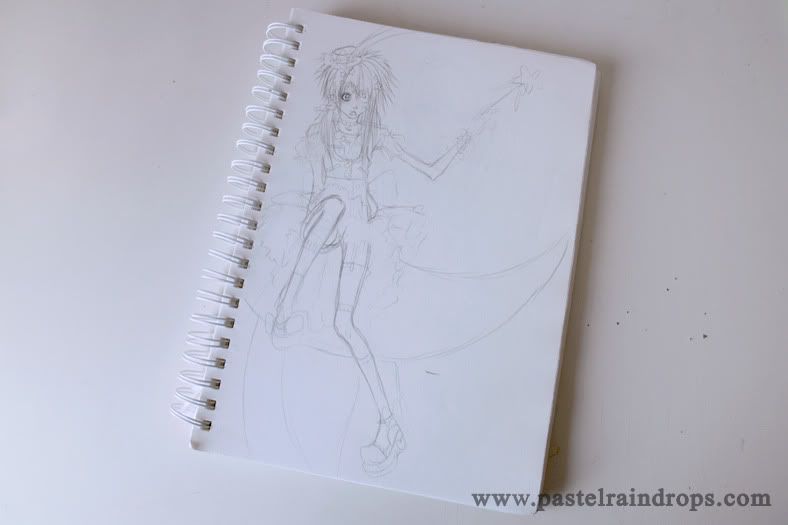 And the newer sketch I made ♪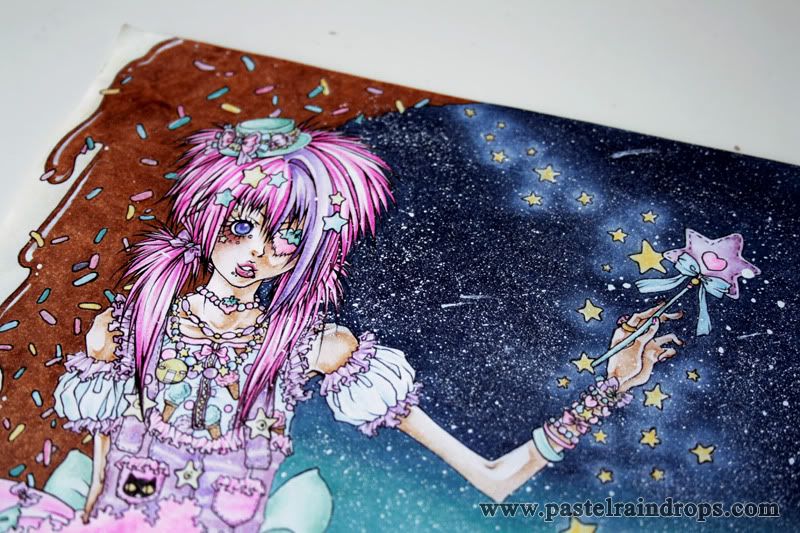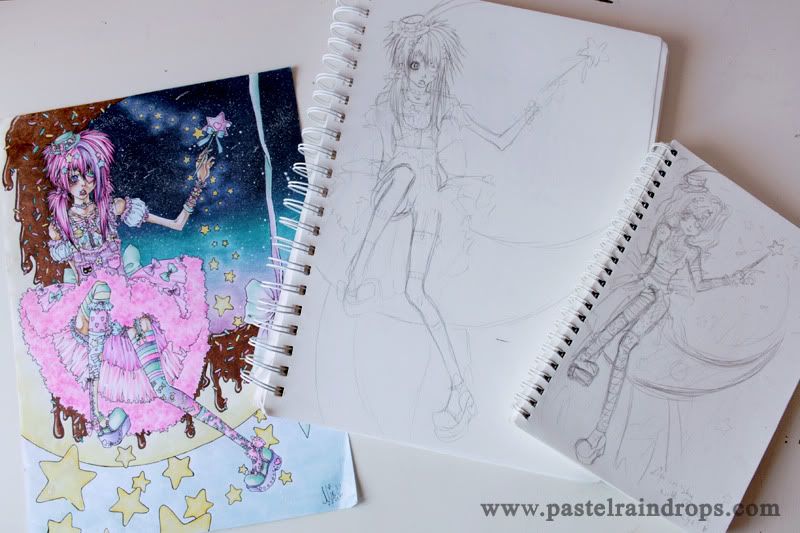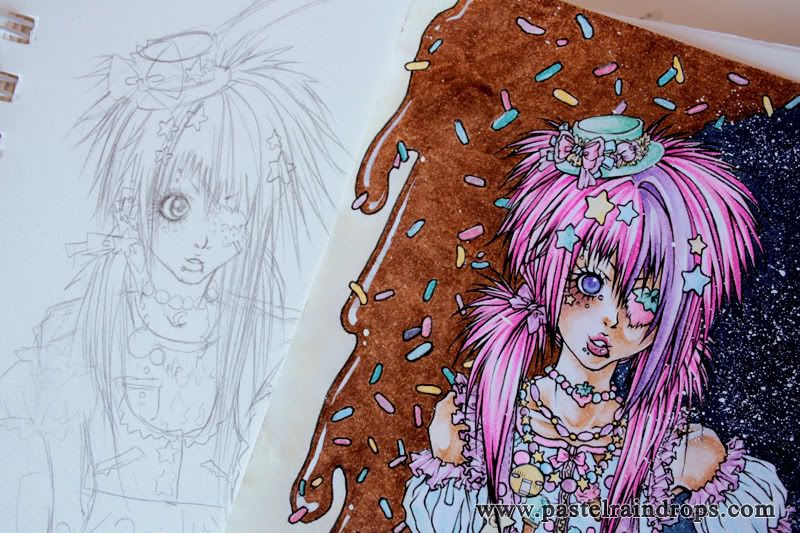 Well, I think I actually did improve over the years, huh?
Everyone starts out little, this is definitely proven by this. However, I also find it very funny how we -or at least I feel this way about myself- may never really notice how much better we get over the time and how much we actually improve until we compare our past achievements. Before we do that we just go, go, go and before we even know what happened we are much better and stronger than before. And we never stop going unless we want to.
Before I get too sentimental, I better show you the final and scanned result!
At some point during colouring I really wasn't satisfied with it but I saved that with my darling coloured pencils! Now I can say that it's been a while since I was last so happy with a drawing.
Yes, it really made me happy to finally have this finished ♥
Also, this drawing was originally inspired by the song 'Lisa in Sky with Strawberry Eyes' from a Japanese band called DOREMIdan, hence the title of this entry. These days I rarely still listen to Japanese music but DOREMIdan are certainly one of those bands I could always listen to, they bring me in a comfy mood ♥

- DOREMIdan - Lisa in Sky with Strawberry Eyes -
I hope you enjoyed this drawing ♪
Much love and take care, cuties!
Mio~

(P.S. I made a new header! Do you guys like it? ♥)