Yesterday, I really got the vibes of spring somehow. I could almost smell the spring while the sun was shining into my room! Only a few more weeks, so I guess, until it finally get around here to stay. As much as I liked this winter, I can't wait for the spring to come.
All this positive energy cheered me up so much and I just HAD to do something with it. So I decided to dress up in pastels once again, kitsch up as much as possible and recorded a
video for Youtube
(because y'know, I left my subscribers waiting almost one year for something new to come).
I also recently got these lovely goodies in my mail:
2 pairs of Dollywink lashes and 2 pairs of circle lenses ♪
When I'm shopping I mostly spend my money on clothes and keep on neglecting other things. I was meaning to buy these for months but always stumbled over other pretty things to buy instead.
The lashes were from
Ebay
and the Lenses were from
Pinkyparadise
, which I highly recommend!
Not only did the lenses get here in about...2 weeks(?), which is pretty fast in my opinion, but I also got two lens containers, this little bow to pin back hair from the face and some sort of eye refresher samples against dark circles. I'll give you a closer look on the lenses in another entry, though ♥
So, while dressing up, I also decided it was time to try out one of my new
MintyMix
wigs (which I'll review soon, as well!) and the Dolly wink lashes.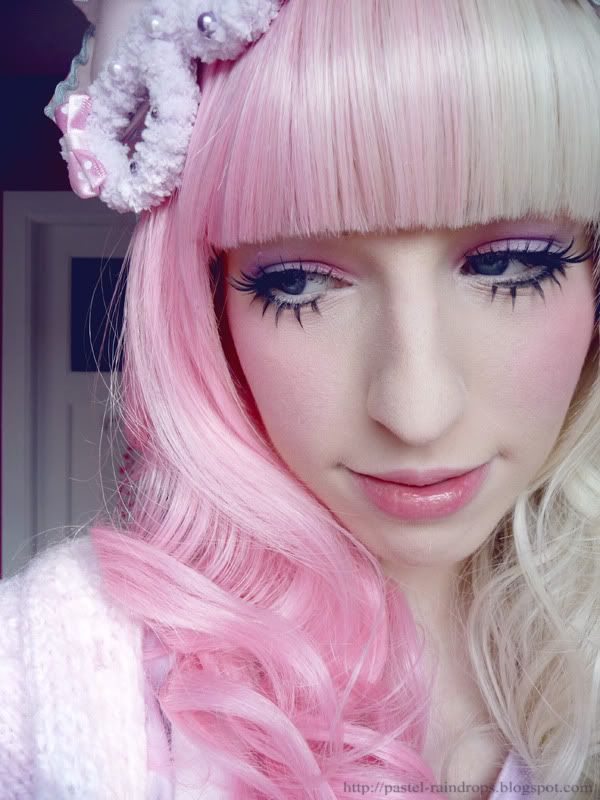 What can I say, it was my first try to make this 'big eye' kind of make-up Gyarus often use. Doesn't mean I'll be going all gyaru-like in the future but I really do like the look of it ♥
I still need to improve it a lot, I know, but I guess it's alright for a first try. It was also the first time I managed to get my lashes on with the first try, I couldn't believe myself! This time I used the DUO lash adhesive and it works so great. I have no idea why I didn't try it earlier, it would've probably save me a lot of pain and nerves.
New lashes, new wig - so why not wearing my new salopette as well?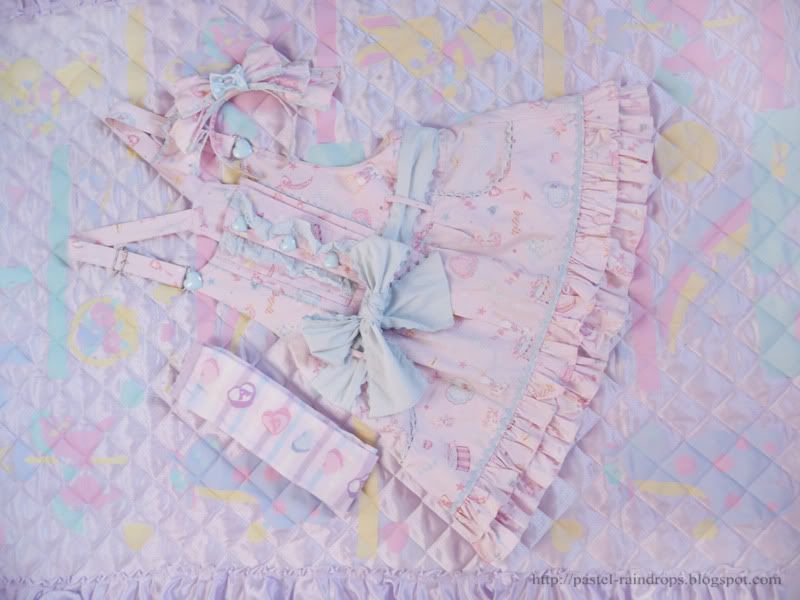 Yes, I already got it for Christmas but didn't get around to really try it on yet. Now that I did all I can say is that this is probably my favorite 'dress' ever. Maybe I like it even more than my Sugary Carnival Op and that says a lot, doesn't it? But the cut of this salopette, the detail, colour and the print is simply the cutest ♥
Headbow, OTKs, Salopette - Angelic Pretty; Shirt - Banana Fish; Cardigan - secondhand; Hairclips - Chocomint
This is truly how I feel best. It makes me incredibly happy to wear these bright colours and cute clothes and I wouldn't want to miss any of it in my life. Though I must admit I do miss having my own hair this way. Of course I can now wear a wig to achieve something similar but it's not the same. But dying it back isn't an option for me anymore.
Anyway, I guess it's about time for me to go to sleep.
See you, my dears & have a nice weekend ♥