HAPPY 2011 ♪
You probably noticed my absence already but for those who didn't - I took a little holiday break. Enjoyed christmas, celebrated new years' with
Mimi
in Minden and used the rest of the time for myself and my portfolio. Things are really getting tricky and tight and my deadline is moving closer and closer.
But I hope things are better with you guys and that you all enjoyed your holidays or at least had a good time ♥
Once again I'm far behind the things I yet didn't write about. There's even clothes from months back I haven't showed you and before I get even more lazy, I'm simply starting off while I can.
Found this pretty at the fleamarket for a few euros. I love the detail on the hearts, with sequins and pearls ♥
left - The absolutely irresistible pullover from H&M, the most precious one I have right now | right - A pullover from Pimkie. I've been searching for something like that for a little while but didn't want to spend too much money on them. Else I would've bought one from Topshop or something, haha ♪
2 snoods, both from Primark. The best invention EVER! I've been wearing them althrough winter now and they're amazing! For those who don't know, snoods are a mixture of Scarfs and HOODs. And endless circle scarf with many ways to function ♥


left - Brogues from Primark (favorite flats ♥) | right - thrifted ankle boots from an unknown brand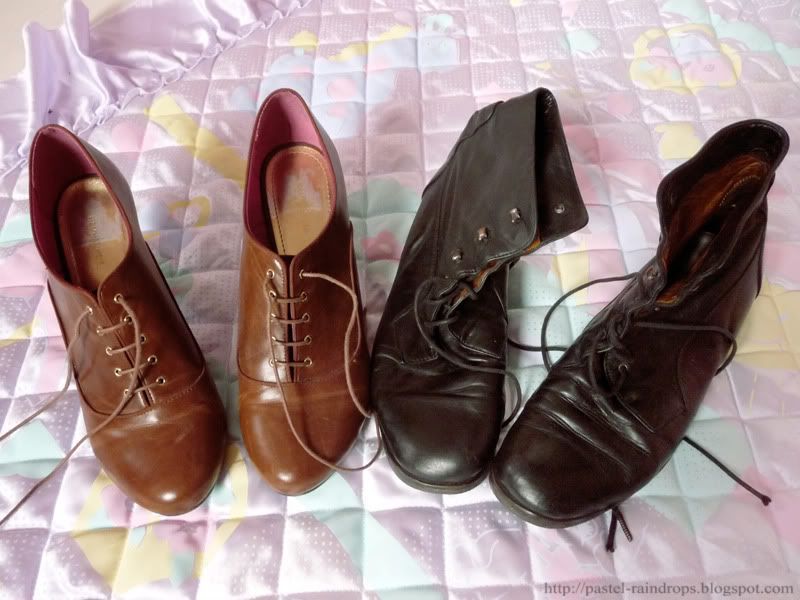 left - lace-up heels from H&M I got from my sister ♥ | thrifted ankle boots I got along with the others above. I wore these through wind and snow so far. Really reliable booties ♥
Maritime silk skirt I found at the fleamarket for only 1€-2€! This is what my coming up spring/summer will look like ♥
Tote from Weekday ♥ My collection of totes is growing! AH!
Bird rings from Primark and rest from the fleamarket. I especially love the silver ring with onyx and little marcasites ♥
And this is about it but wait... there's more to come! Too many clothes, and gifts and random things.
OH! Also an entry about this winters sale! But all at it's time because for now I'm back to painting. I still want to finish this water colour piece today, let's see if I can do it.
Though, before I forget: Thanks to everyone that participated in my giveaway, so far! You really warm my heart ♥
But there's still more than half a month time, so if you didn't already do so take your chance to take part in it. I'd be really happy about it!
See you around ♪