As promised, I'm back with my surprise. It's christmas eve and while I'm waiting for our christmas dinner with my sister, I find some time to reveal the secret from my last post.
Nobody really got close to the intention of my surprise and only one found out what was showed on the photographs.
You surely remember this, right?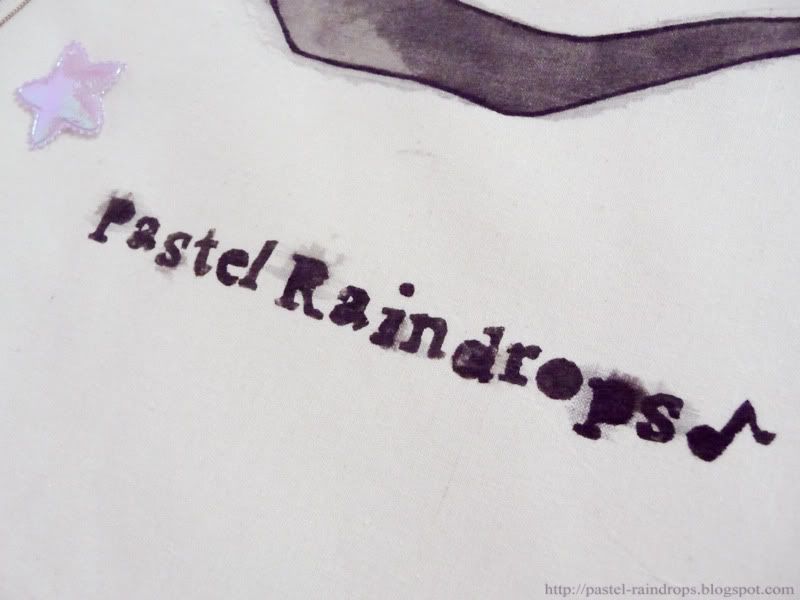 However, I'm not here to keep you in suspense any longer ♪
My surprise for you is a GIVEAWAY ♥
My very first giveaway and it's to thank you, my dear followers and visitors, for staying with me so long!
Not a single year passed yet -and I hope for many more to come- since I've started this blog and trust me, I had a lovely time with it. I hope so did you ♥
I thank you for more than 300 followers via friends-connect and more than 50.000 pageviews!
Really guys, you are incredible and I'm so thankful for every single person who stumbled across my blog and took their time to read some of it.
Now, what do I have for you?
I have 2 different sets, waiting for 2 lucky winners!
Two because I couldn't ever decide between pastels & darker colors.
♥ Set 1 - (left) 'Pastels'
♥ Set 2 - (right) 'Casual'
Every set contains the following:
♥ One handpainted tote-bag with long handles - available only for you ♪
♥ One hand embroidered felt brooch - only for you as well ♪
♥ One double-finger ring from Opia by Primark
♥ One necklace from Opia by Primark
♥ A bottle of my favorite nailpolish/topcoat from Essence
Some close-ups for you:
A carousel horse for 'Pastels' ♥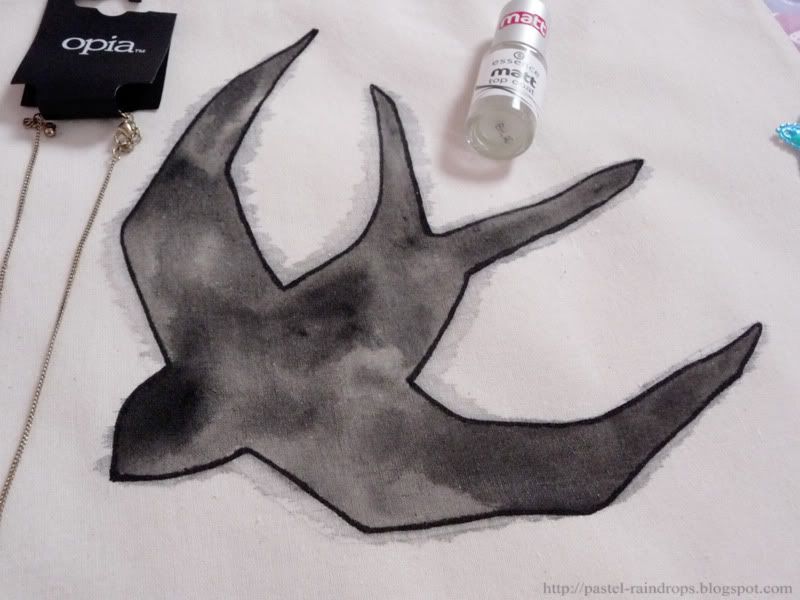 And a swallow for 'Casual' ♥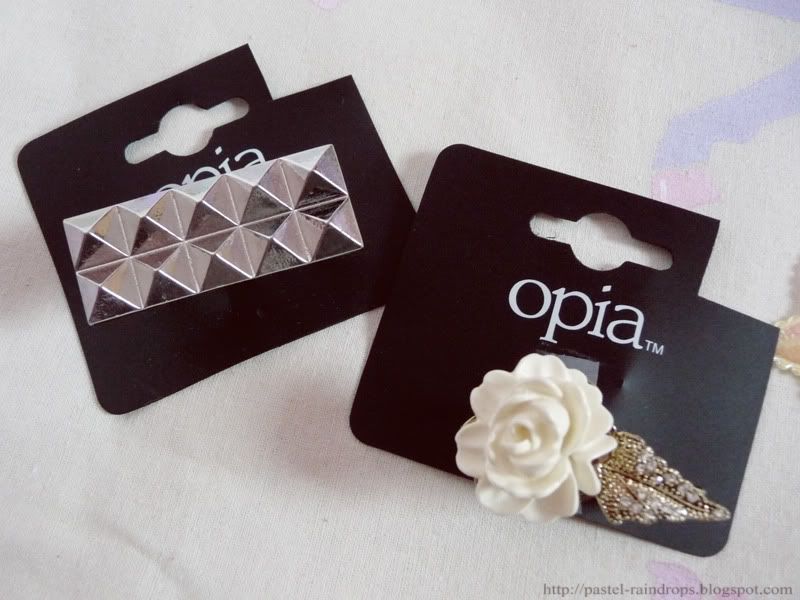 Double-finger ring - 'Pastels' on the left and 'Casual' on the right ♪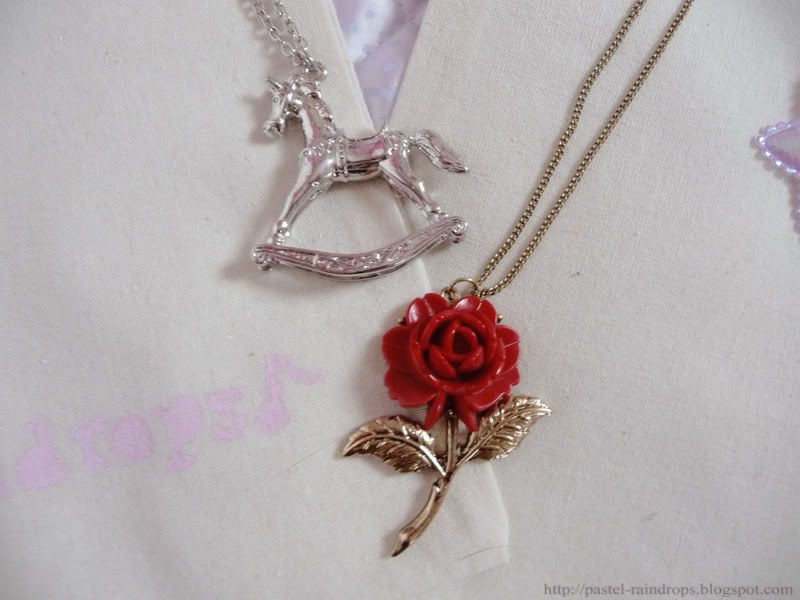 Necklaces - 'Pastels' above with a rocking horse and 'Casual' below with a rose to match the ring ♪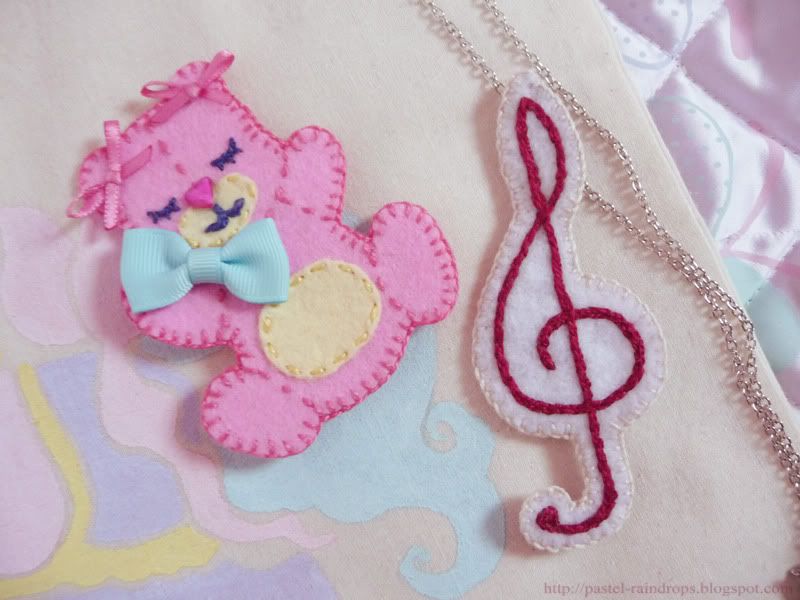 The felt-brooches - 'Pastel' on the left with a teddy bear and a clef for 'Casual'
My favorite color of nailpolish for 'Pastels' and the nicest matte topcoat to turn every colour into a matte on for 'Casual'
Now, how to enter this giveway?
Need:
♥1. Since this is for my readers, you must be a (public!) follower of my blog via Google Friends Connect
♥2. Comment with your name + e-mail adress + blog url + the name of your favorite set! + link!
♥3. Write about this giveaway in your own blog (don't forget to include the link to your blogpost in your comment as well! ♪)

Optional:
♥ + 1 entry if you promote this giveaway via Twitter (comment as usual + link to your promo!)
♥ + 1 entry if you promote this giveaway via Tumblr (comment as usual + link to your promo!)
♥ Multiple promotions on same sites won't add more entries, sorry!
♥ This giveaway is open internationally! ♪
♥ Deadline is the 31. 01. 2010!

Please make sure to check through these rules and guides carefully! I don't want to exclude anyone for not sticking to them because they simply misread something. If you're not sure about anything or if you have questions or concerns mail them to me please. I'd be happy to help you out ♥
pastelraindrops[at]web.de
I will contact the winners via e-mail, so make sure to check your mails! If a winner doesn't answer after 3 days I will chose a new one.
Alright now, I hope you like the gifts I have for you and most of all that you have fun with this giveaway!
Again, thank you for staying with me so long and true. I hope you have a Merry Christmas and enjoy your holidays! ♥
LOVE ♥