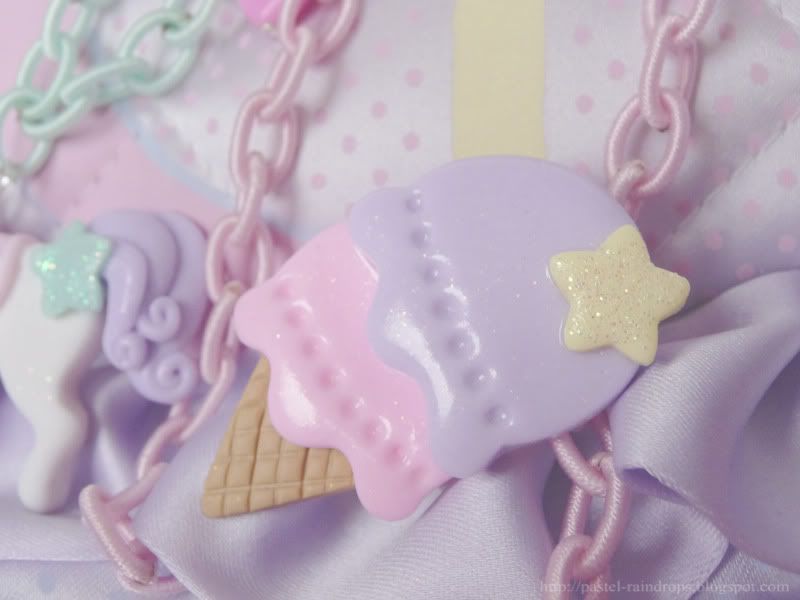 OH NO! So many pastels again!
Yeah I know, I meant to by something less kitchy next but I would have needed to take pictures first for that and I was simply too lazy for that today. Besides, I still have so many, many things to show you.
Like, what I actually wanted to do for ages, yet another review.
That picture should give you a tiny hint on what it'll be today, can you guess it? No?
But have you never heard of...
If you seriously didn't you absolutely HAVE to check them out right now over here-> ♥
klick
♥
When I first stepped across their myspace profile some years ago, I wouldn't have thought I would now drool over it so much because they started out like many others I've seen at that time: Cute character/food/thing + drawing a face on it = even more cute. Sounds a bit stupid but I mean it in a positive way. Their designs developed so much over the time and now... what can I say? It's impossible not to fall in love with it!
After all, these two Italian girls put all the things I love in their jewellery: Pastels, pop & much, much Kitsch!
So I've always wanted to order something from them but everything on their page sold out so quickly and for a long time they only had an Italian version of their shop. Some months ago, in August I think, I was finally lucky enough two grab a ring and a necklace to make it my own ♥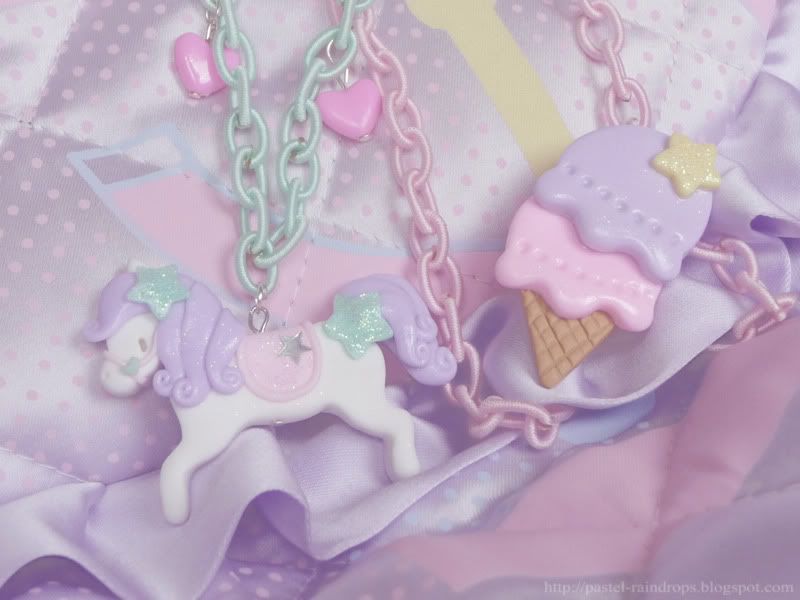 One of their wonderful Fairy Pony necklaces and the Double Flavor Ice Cream ring ♪
Trust me, all the detail on it is incredible! Even the back of the pony still has some ornaments. It's just done with so much love and care and the outcome is simply adorable. I also really like the chain of the necklace, made not from steel but a soft synthetic fiber.
But not only the quality is really nice, their service is as well! Quick mails, quick postage and very, very friendly.
The only negative point about CCK is, that their things sell out so quickly but who could blame them? But if you want to stay up to date about release times and other things make sure to like them on
Facebook
!
As for me I can't wait for my new things from them ♥
Is there still room in this post for some more?
I think so, because I still have some things to show you ♥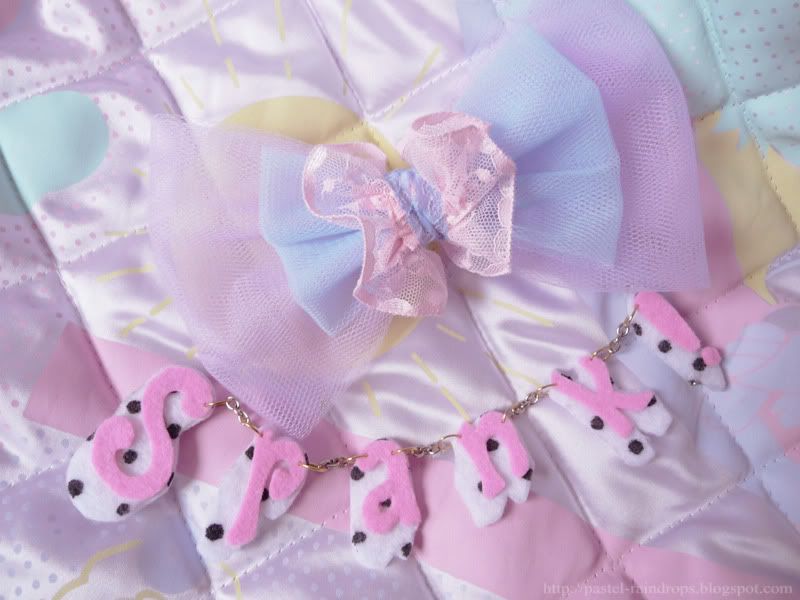 Do you remember when I wrote about the
drawing for Tavuchi
? So I still managed to sent it to her along with a short letter and the things you can see on the picture above. Now that they arrived her safely a while ago I can post them without any kind of spoiling ♪
I really wanted to sent her some of my craftings and came up with a headbow and a brooch. Yep, that 'Spank!'-logo is a brooch, there are small pins on the back of the 's' and the '!' ♥
The tulle bow wasn't so hard to make because I'm used to it by now but the brooch took it's time.
At first I wanted to stitch it together, like I did with others I made, but it was impossibly here due to the thick felt and the tiny letters. So I could only glue it but nevertheless it wasn't easy. The dots are handpainted the chain links were all single dismantled and assembled again.
But I really liked it's outcome and I think I'll make one for me as well.
Last but not least some more camwhoring by me, haha ♪
Shirt - Banana Fish; Skirt - H&M; Socks - Angelic Pretty; Shoes - Monki; Belt - H&M; Accessory - Chocomint, Cute Can Kill, Monki




Oh well, don't take those pictures too serious, at least not the right one. It's hard for me to stay reasonable when taking pictures but I kind of liked it anyway?
Ugh yeah, that was my outfit for my application to that Hyper Japan x KERA modeling contest but (as expected) I didn't make it - which doesn't keep me from presenting those pictures, though.
I actually really liked the combination of denim and pastels really much. I should get some similar skirts some time, I guess. Or a nice jeans jacket for next spring?
OH! And I'm wearing my CCK jewellery here, as well!
Looking at the time again now, it's really too late again. Thank you for reading and enjoy your day ♥