Today I want to reveal what's in my handbag most of the time.
Some things I couldn't go out without and some things I just feel more comfortable with.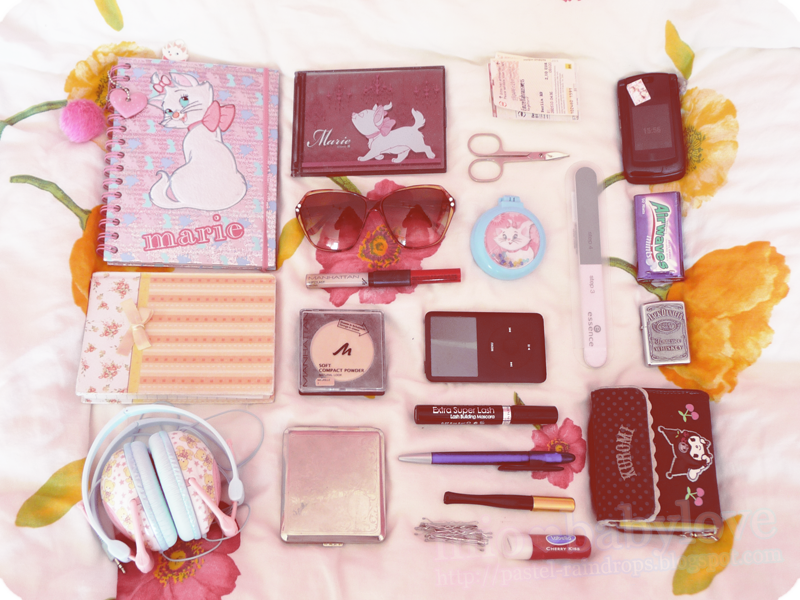 From upper left corner to lower right corner.
♥ Marie Notebook, bought at Disneyland CA
♪ I really like to look into this as it's filled with Print Club pictures of my friends and I
♥ Marie Handmirror
♪ A Gift from my dear friend
Julia
♥ Vintage Sunglasses, Fleamarket
♪ Completely necessary!
♥ Permanent Lipgloss, Manhattan
♪ Favorite colour of red ever
♥ Tram Tickets
♪ Love to keep them even though I mostly take the bike
♥ Scissors
♪ To fix if anything goes wrong, haha
♥ Marie comb&mirror, Disneyland CA
♪ Oh so handy!
♥ Nailfile, Essence
♪ See: Scissor
♥ Mobile
♪ Always next to me
♥ Airwaves Mints
♪ I prefer mints over gum, keeps my breath fresh
♥ Notebook, Nanunana
♪ For adresses, numbers, notes, scribbles, shopping lists. Simply to keep me updated
♥ Compact Powder, Manhattan
♪ Can't be too light for me
♥ iPod Classic
♪ No music? Sorry, I got to go
♥ Jack Daniels Zippo, San Francisco
♪ Tribute to my father and good for lightening cigs
♥ Headphones, Swimmer
♪ Makes music even better
♥ Cigarette box
♪ A gift from my father, always with me
♥ Mascara, Rimmel
♪ Loving it
♥ Pen
♪ Well, you know, to write
♥ Cigarette holder
♪ Adds a little more style
♥ Bobby pins
♪ Fix it, Baby!
♥ Labello
♪ Fresh lips
♥ Wallet, Sanrio
♪ I desperately need a new one but it still keeps my money, thank god
What do you always need to carry around with you? Anything you couldn't live without?