Good day my lovelies ♥
Today I wrote my first exam of the finals, I'm glad I survived it, haha~
Now I only have to survive Biology in Friday and the rest will be a piece of cake. I'm looking forward to my vacation after all that so much!
Anyhow, my petticoats FINALLY arrived! Or more like I had to pick them up from the custom office, but that's another story. So I though of making a little review about the pettis and the shop I bought them off, as I know many peeps have problems to find the right petticoat.
So far I always used my three small petticoats all together in order to add at least a decent poofs to my dresses. But especially for my Angelic Pretty dresses this still wasn't enough as I really got the feeling those dresses EAT them up somehow. Well, my petticoats are fine with all my skirts but somehow I had to get something else for my dresses.
My solution: Ebay.
After some search I found the shop "
Victorian Girl Dress
" and as they were so cheap I decided to give it a try.
I won auctions for two petticoats in the cathegory "11-14 years", one in pink and one in white, together for 25GBP shipped. I took about 3-4 weeks for them to arrive me, but probably a little delayed by the customs.
Now, what can I say? I'm 100% satisfied with their quality!
The colors are pretty much the same as in the picture and I must say they are HUGE!
They are made from soft tulle, are not scratchy or anything and have a really nice shape when worn.
What I probably love the most about them (besides the poof) is the fact they have a sewn-in underskirt made from lycra fabric so you can also wear them without anything else and don't need to worry about your panties shimmering through.
What surprised me though, is that they actually only contain two layers of tulle but those layers are ruffled so much that it adds much volume to it and makes it even less see-through.
Here's another picture of the petticoat worn under my ManiaQ one (which is actually pretty thin in comparison). This may help you to get an idea of it's shape. You can also see that even though I'm wearing dark tighs, nothing of them is shimmering through.
The length is also very fine as they are ending a few cm above the knees but you cann still pull them up nevertheless.
Last but not least a picture of me wearing one of the petticoats under my AP JSK. I didn't get that effect with all three of my old petticoats so I'm really content with the result. And If I still want some more I can simply wear one of my smaller ones under it as well.
So, I really think this is a little usefull for some of you. Because I know I always had problems to find the perfect petticoat to wear with and without dresses but now I finally found it.
As much as that for the review but I still have two other goodies to show you ♥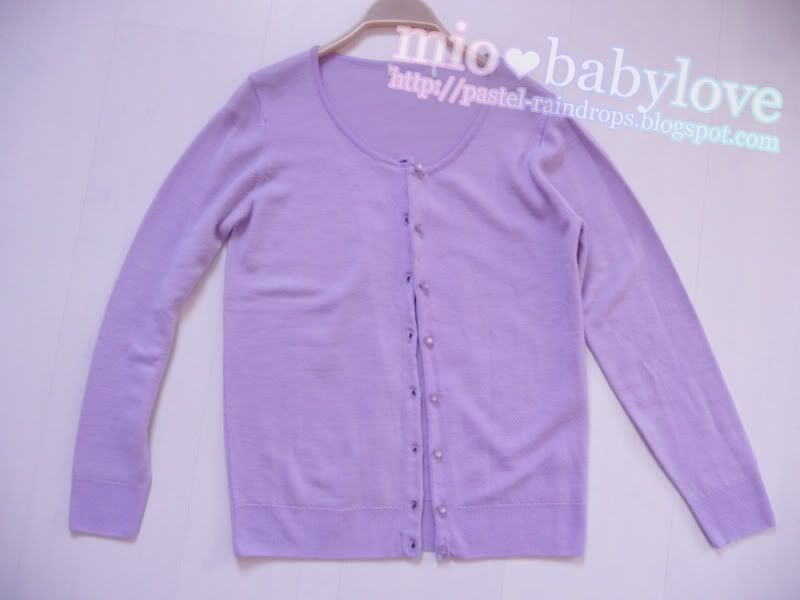 First I have this beautiful cardigan in a soft lavender color I bought off ebay ♥
Actually I was searching for one of those "mocomoco" kind of hoodie-jackets but as they are mysteriously sold out in like every rakuten shop and other online shops I ended up getting this. I needed a new cardigan anyway so I'm quite happy.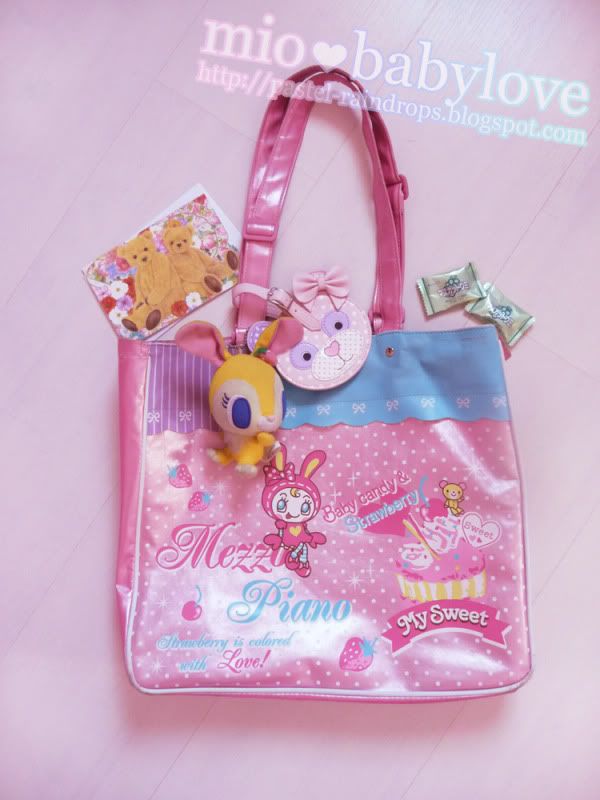 The other thing I bough off from an LJ-User is this adorable Mezzo Piano bag ♥
Ichiman
has the same one so I was unsure whether it would be okay if I bought is as well, but I asked her and she said it was fine. Thank you so much, darlin! ♥
It's still in a pretty good shape and I'm just so happy to have a nice shopper now (besides MP is one of my favorite brands) ♪
Well, well~ that's all for now ♥
I decided to answer all questions in comments now with simply other comments, so please check back the comments from now on. I just think it's better than writing my answers in my entries.
Anyway, I'll go to bed now, take care and much love!