Hellow fellas ♪

Today I don't have much to update but I want to introcude you to the category 'Shopping Update' of this Blog. As you may already guess it's about me and my shopping addiction.
Here I will present you all the things I recently bought ♥


Right now I don't have the time to do some actual shopping as in 'going out' to the mall or to some shops, because I spend most of my time studying. I'll be so happy when this is finally over.

Nevertheless I bought some nice things online and so far the following things arrived me:


First of all I purchased some more accessory from
Chocomint
.
It's a Japanese brand that sells jewellery, accessory, candles, decorative items and many more things. Everthing there is just so cute and childish. They also have many handmade things with cake or candy designs which sell under the brand "Ribbon Holic"
Their designs are also perfect for anyone who loves Sweet Lolita or Fairy Kei.
I bought some lovely things from them before and once again I'm very content with their service. Nice and troublefree, carefully paked and good quality. They also ship with EMS, so my purchase arrived really quickly.
This time I bough (from left to right):
♥ A big lavender hairclip/brooch made from soft, fleecy fabric
♥ A lavender/pink tulle ring with little gems on it
♥ A lavender/pink scrunchy with a big tulle bow that can also be used as a bracelet
♥ A bracelet with chunky star beads
♥ A bracelet with a white/pink tulle bow
♥ A bracelet with a mint tulle/satin bonbon
♥ Two bracelets with big, candy-like beads
Next thing I bought is something I was meaning to buy already long ago: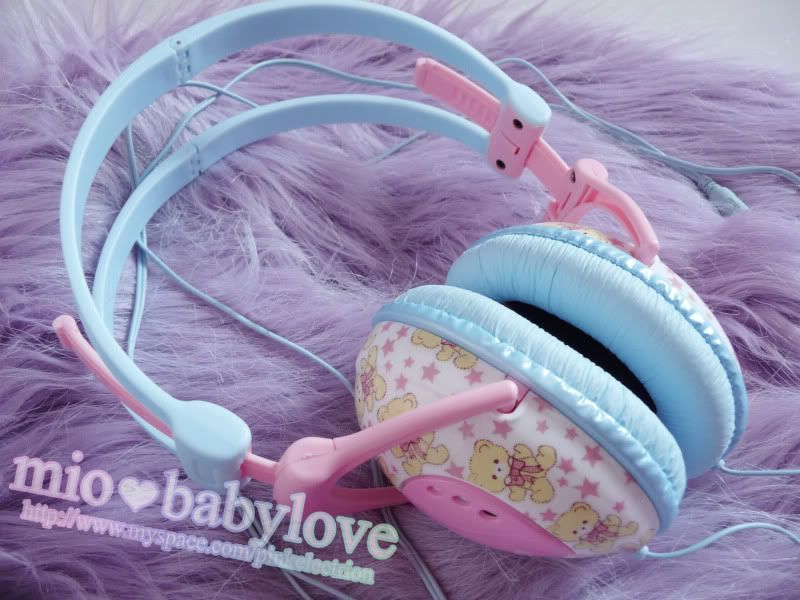 The infamous
Swimmer
headphones ♥
I don't know what it was but something always kept me from buying them.
Swimmer brings out 4 different designs of headphones every 4 month and usually they wear always like: Black plastic framing + colored pattern on the actual earpiece. Maybe it was too much black, maybe I was always waiting for the perfect pattern but this time Swimmer hit my sweet-spot for sure!
They released headphones with multicolored framings! In pastel colors!
This was just 100% perfect for me and I was lucky enough to get my hands on this pair when someone sold them on Livejournal.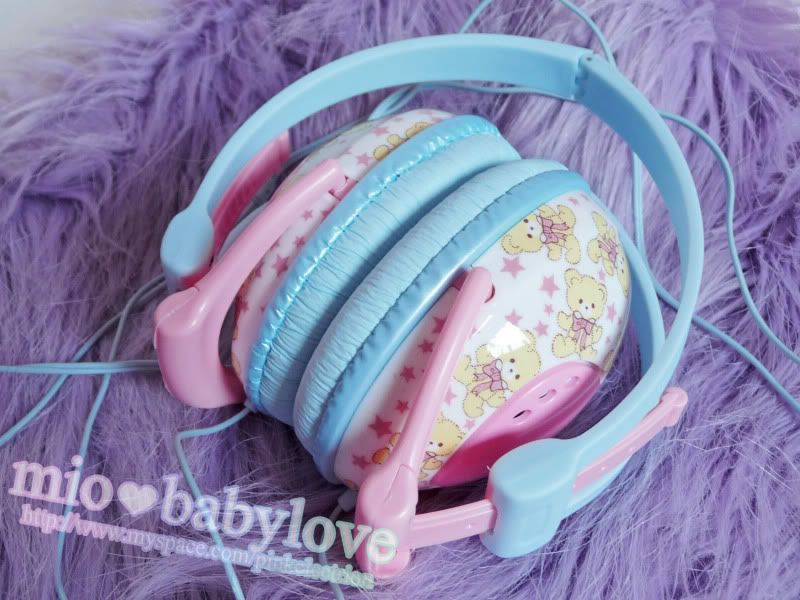 They don't even take much space when they're folded together, clever huh?
This way they are easy to handle and the earpieces are safe from any damage ♪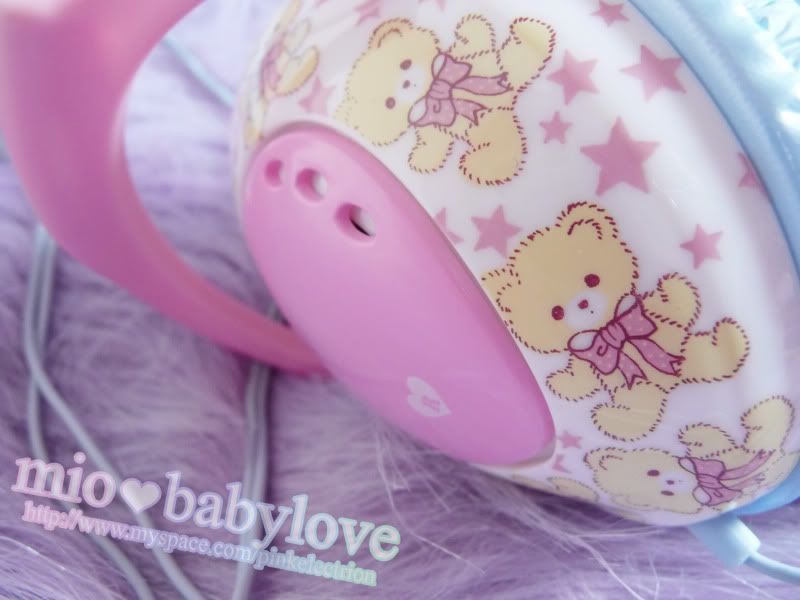 Here's a close-up of the pattern ♥
Little Teddybears with pink-polkadotted ribbons on their neck & little pink stars.
Truth to be told this wasn't my number 1 favorite design but I'm still very happy about getting this one ♪

The sound quality is also better than I thought. Usually I always used headphones that I could clip around my ears so they don't fall out, but they sadly emitted much of the sound to my environment and less to my own ears.
From my first try-out they still sounded a tiny bit dull but that's probably because I'm not used to these kind of headphones at all. Other than that the sound is fairly clear and good.
Now I only hope that they will last for a long time and don't die too fast as other headphones do.



This is all for today but I still have some nice things in the mail ♪
See you soon , Mio ♥