Ronja says "hi" ♥
I'm posting an awful lot, don't I? But for some reason I really do feel energetic right now.
As for today, I decided to dress up a little brighter~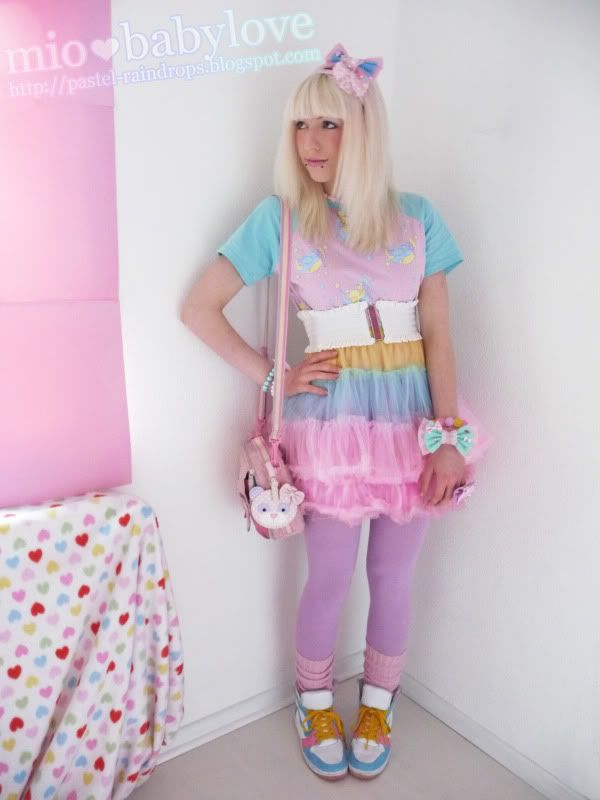 ♥ Outfit Rundown:
Accessory: Chocomint, H&M, Offbrand Handmade by me
T-Shirt:: Marjour
Belt: Tally Weijl
Petticoats: ManiaQ & Offbrand
Tights/Legwarmer: Offbrand
Bag: Sanrio
Shoes: Offbrand
Actually I'm not too content with this outfit. I really need to figure out a way how to pull off petticoats as waist-high skirts better. But it was a first try. For the next I guess something sleeveless would be better?
In the past and even until just a few months I really hated waist-high stuff and now I can't live without it. I'm just not yet used to waist-high pants. Shorts are okay but long pants...I just don't know yet.
Besides all that I really, really, really miss going out for shopping! I simply don't have the time for it and all I do is buy too many things online. I want to go to all my favorite stores, to the mall and just digg my way through all the clothes. I feel like I miss 1000 collections and beautiful things out there, even though it's been only about a month since I last went shopping.
Next week will be the 2 exams of which I'm a little bit scared and next weekend I'll maybe go out to search for a prom-dress. And do some other shopping? Or maybe sew something new?
I just bought some soft tulle online and I'm thinking of making myself a nice skirt out of it ♥
Well, we'll see! But I'm in bed now, studying some more.
Answers to comments ♥
@Gizzy: Danke dir! * 0 * Ich erinnere mich auch irgendwie fast nur an das erste Buch und an Juli und Paul et Paule die Hamster und ja, die Zeichnungen waren in der Tat komisch! Irgendwie vermisse ich dieses Buch xD
@Yuu: Danke dir! ♥ Fährt deine Mutter so auf die 80er ab? xD
Bzw, wenn du magst kann ich ihn dir leihen ♪ Ich hab auch noch einen anderen, ohne Taschen, etwas enger und in ganz Schwarz <3
@Mnon: Thank you so much! Really? But that's better than nothing I think xD
But I'm still scared of taling in French
@Hime: Danke dir xD Und klar hab ich die bekommen! Wenn sogar Marvin seine noch bekommen hat, dann ich ja wohl locker!
@Haru: Thank you! <3 Really? That's too bad! I didn't even know they had them until I went to London, where they were even on sale. But they're falling apart badly :/
And to all the others: THANK YOU! <3
Good Night now ♥