First of all I really, really want to thank you all for over 50 followers on this Blog! ♥
I can't believe I've already made it this far and can just say 'Let's rock on!'
This Blog is still so young and I've still got a hell lot of shit to post! ♪
Anyway, I've got to show you todays dress up!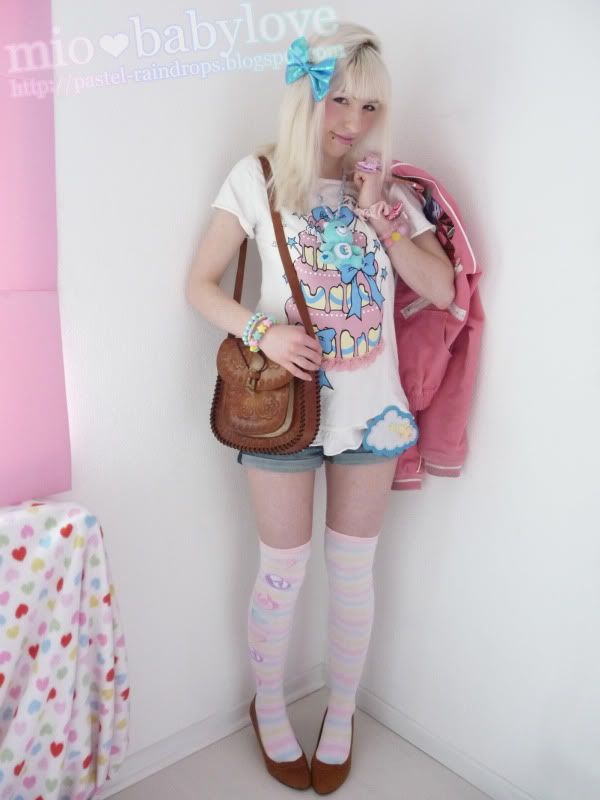 ♥ Outfit Rundown:
Accessory: Chocomint, Sugarpop, Offbrand, Handmade by me
Jacket: Red Mutha
T-Shirt: Banana Fish
Shorts: Avanti
OTKs: Angelic Pretty
Bag: Old bag from my sister
Shoes: Lapucci
Today I wore many things I simply love ♥
Like my Red Mutha jacket I bought on my trip to London last year, my new shoes, the Banana Fish tee a friend gave me once and the cloud brooch I made ♪
Actually I'll be starting to sell some handmade goods this summer so watch out! ♪
I also just noticed that my hair even looks so much shorter now. Afterall I had 10cm cut away recently because I'm growing my Hime-cut out now. I can't wait til my hair has one length again but I guess that will some more month. The shortest hair on my head is still doesn't go longer than up to my chin.
The good thing about having my hair properly cut in timely intervals is that it finally gets healthier and that all those splissed and broken parts are almost gone. Way to go now ♪
Besides this I don't have much to say besides I go out way too seldomly these days even though the weather is so nice and spring-like. But studying is simply more important as things are getting more and more serious by day.
However, thanks again for all your lovely comments! It makes me so happy to read them ♥
@ Hime: Bürgerweide fängt sowieso erst nächste Woche oder so wieder an, wir fahren deswegen momentan nach Habenhausen und zu Fegro. Aber wenn's mal wieder richtig schön warm ist können wir ja mal zusammen über den Flohmarkt gehn <3
I think that's it for today~
Good Night and take care ♥