As at least my German fellows know, the Leipzig Bookfair took place two weeks ago from the 18th to the 21st of March. As it is some kind of Tradition of my friends and me to go there every year we also went there this year. I've been there every year since 2006 (except for 2008) and it's always nice again. It's funny to see how it grows and how there are more and more Cosplayers every year.
But for the first time we were there for more than just one day and rent a hostelroom to stay there Saturday AND Sunday. Usually it was always a huge stress because we would have to take all in all 12+ trainride to simply get there and home again. This year everything was a lot easier but also a lot more expensive but we all weren't sure if we would ever go to the LBM again because of our future lifes.
For saturday we all planned to dress up in some sort of a Decora & Fairy Kei mix. For those who don't know, they're both different types of the Japanese Streetfashion. I dress up Decora for quite some time now but within the last 1-2 years I developed more like a mixture of both. I don't know, I just like pastel colors more I guess, besides I grew up with all the 80's stuff around me.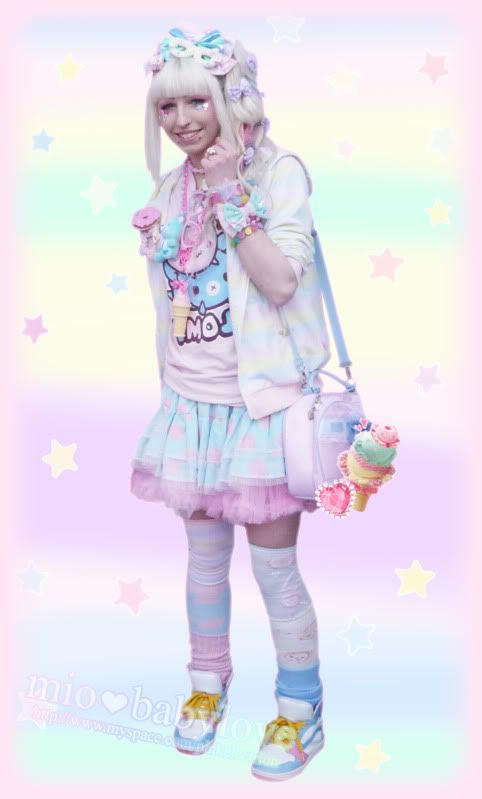 ♥ Outfit rundown:
Accessory: Handmade, Chocomint, Angelic Pretty & Offbrand
T-Shirt:
TastyPeachStudios
Zipper Hoodie: ManiaQ
Skirt: ACDCrag
Petticoat: ManiaQ
Bag: ACDCrag
Socks: Angelic Pretty, Btssb, Offbrand
Shoes: Offbrand
So this was my outfit for saturday~
I'm sorry for the crappy Photoshop editing but I didn't find a single picture with just myself and my full outfit, so I had to cut something out.
Actually I'm quite content with how it ended up looking. I'd even say it's one of my best combinations so far, speaking of my more decorated outfits for special occasions.
Btw: the 'we' I'm speaking of all the time includes Mimi, Pinky & Nachiman/Sana
Sana
is on the left &
Pinky
is in the middle ♥
They're two of my beloved friends from Berlin ♥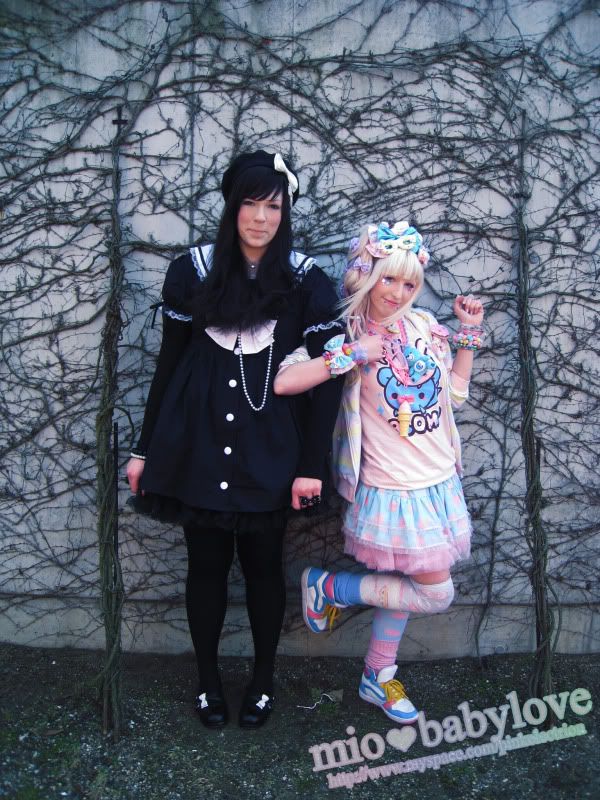 And also
Mimi
of course!
She's my very, very best friend. The most awesome girl I can call my friend ♥
On saturday I also met many other friends of mine, including~
Ichiman
♥ another friend from Berlin~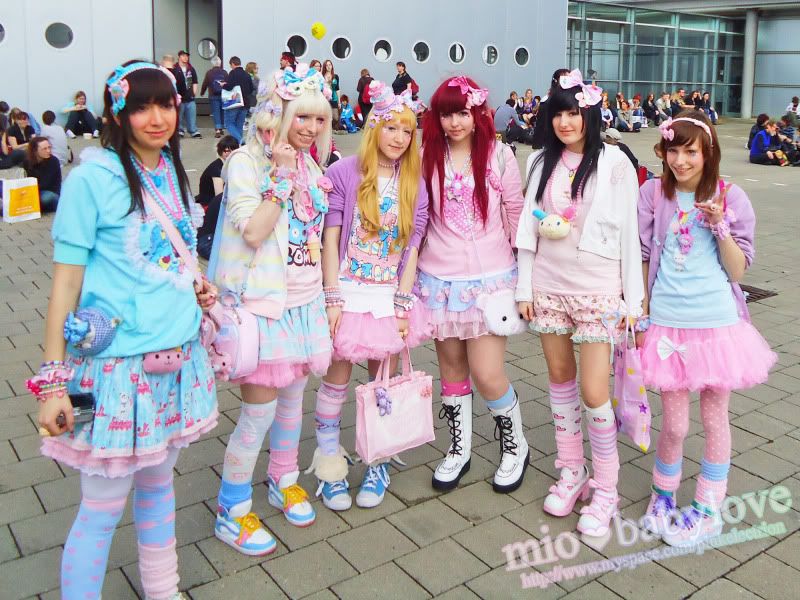 And also
Bambi
& Nadine &
Nekow
(from right to left)
On Sunday, many of our friends weren't there but at least the LBM wasn't as full of Cosplayers as it was on the day before. It was really uncomfortable because of all the people.
However, our theme for Sunday was 'Lolita' which is another Japanese streestyle.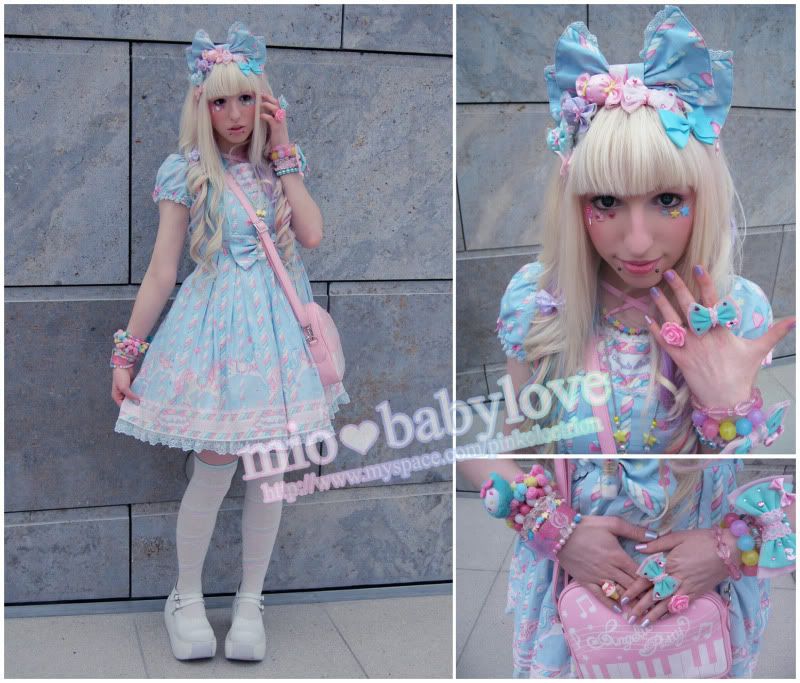 This was my outfit for sunday ♪
Some of you may have already seen it on my lookbook, haha~
Outfit rundown:
Accessory: Angelic Pretty, Chocomint, Offbrand & Handmade
Dress: Angelic Pretty Sugary Carnival
Bag: Angelic Pretty Melody Bag
Socks: Angelic Pretty SG
Shoes: An*ten*na
I know the outfits isn't perfect, mostly because of the shoes. I would've rather wore some blue shoes to match the outfit but I sadly don't own any blue lolita shoes yet. I'm planning to buy some Tea Party and some Love Decoration shoes soon, though.
More important, I was very happy to wear my Sugary Carnival OP to a special Event for the first time. I'm so happy to own this dress and the including Accesory and I wish I could wear it all the time.
After all I simply love Angelic Pretty and most of their designs. Just too bad it's so expensive and I have so little money, haha~
I want to get the Dreamy Doll House Jumperskirt in lavender, though. First the Salopette and then the Jumperskirt ♥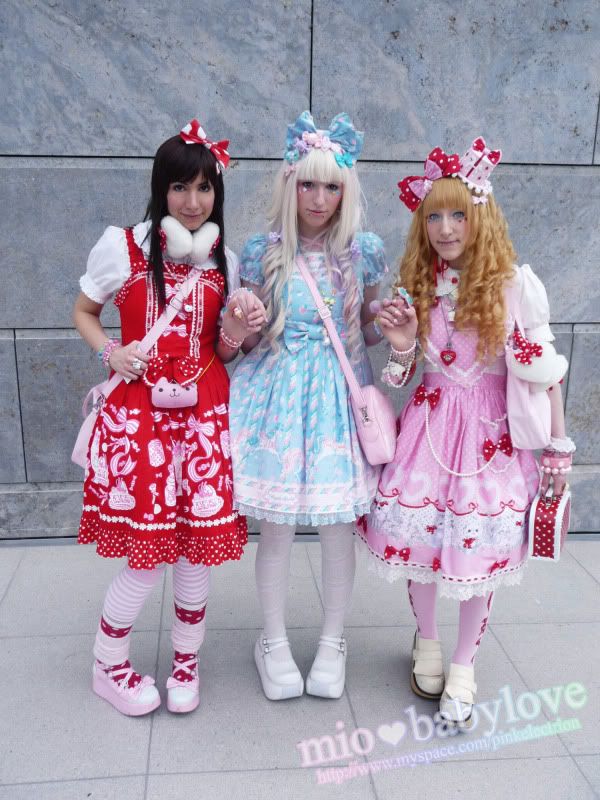 Now here we also have Pinky & Sana ♥
I think Sana is wearing MaM & Pinky a Bodyline JSK that she altered with pearls & bows ♪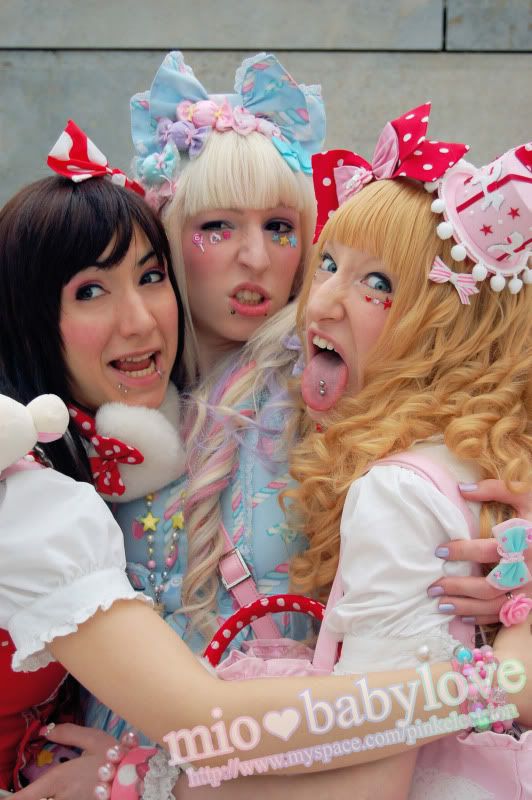 Last but not least one of my favorite pictures of this weekend ♥
I guess, that's all for now. I'll try to update again soon but keep in mind that I'm preparing and writing my final exams until the begining of May.
But I know there will follow some shopping updates soon because my latest orders should arrive pretty soon ♥
Take care, Mio ♪
Picture credits: Mimi, Ayse & Inga ♥