Hellow my dear readers ♥
I can't believe this week is already over, my final exams are coming nearer and nearer. In fact it's less then 2 weeks until I have to write my first exam. I'm scared as shit but that doesn't keept me from dressing myself up ♥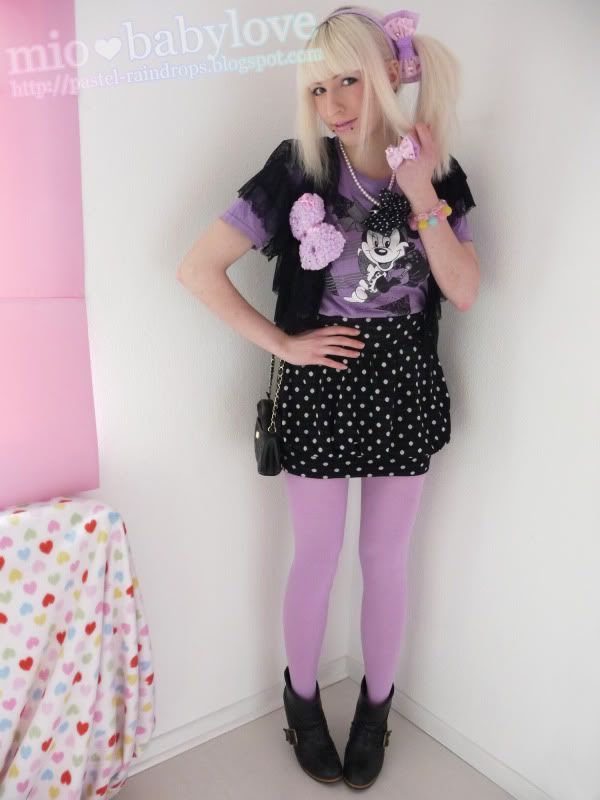 (yay, I'm wearing my new accesory!)
♥ Outfit Rundown:
Accessory: Chocomint, Primark, Offbrand
T-Shirt: My Sister's old Shirt ♥
Bolero: Primark
Skirt: Primark
Tights: Offbrand
Bag: Primark
Shoes: Primark
(I shop at Primark way too often)
I really like combining darker colors with pastels ♥ And what I like even more is the 80s look, Spank! FTW!
Lavender is by the way a really lovely color I think. I used to dislike purple colors very much but same as with min colors I slowly get used to them and really start loving them.
As for now I'm just so happy that the spring is finally coming to Northern Germany ♪
When my finals are over I can finally dress myself up again with a purpose and with time and enjoy the spring.
However, I'll post a little Shopping Update tomorrow since some things arrived me and I bought some nice things at the fleamarket today. Until that, stay tuned ♥
P.S. Thanks for all your lovely comments!
Emily: you gave me confidence that my headphones will last longer than some of my old ones did ♥
Anyomous person: Yes, I purchased them from chibi_tenshi but I've heard this was a restock, maybe she'll restock them again because so many people asked her to ♥